Propellerhead Unveils Balance Audio Interface – Integrated with Reason Essentials for the perfect music making solution
Stockholm, Sweden (MuseWire) – Propellerhead Software today unveiled Balance, its first audio interface and foray into hardware. Integrated with Reason Essentials Software, Balance is at the heart of Propellerhead's complete music making solution.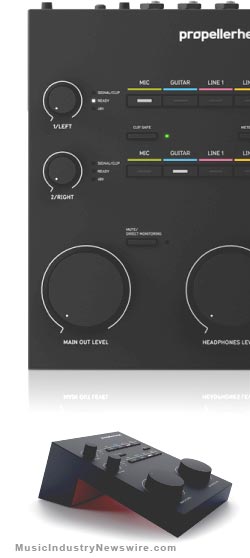 Balance, a two-in by two-out audio interface for Mac and Windows, is designed for the single person operated home/project studio. Fully USB 2 powered with separate volume controls for monitors and headphones, it contains 8 input connections to keep all instruments, mics and devices connected and ready to record with the press of a button—without software pop-ups or control panels. The included Reason Essentials packs in all the recording editing, effects, instruments and mixing tools needed to create great sounding tracks.
"We looked at recording from our musician users' perspective. They were spending time concerned with issues other than music making—riddled in installing software, managing cables, setting up control panels, setting gain levels, tweaking recording parameters, and more. It frankly wasn't as easy and straightforward and it should be," says Ernst Nathorst-Böös, CEO. "So, we were compelled to create Balance with Reason Essentials to let them focus on creativity and not on technology."
Works with everyone, perfect integration with Reason and Reason Essentials
Balance's class compliant drivers on the Mac and ASIO/WMD driver for Windows ensure hassle free installation and compatibility with all applications from iTunes to ProTools. Integration with Propellerhead products goes further. Hardware buttons on Balance bring up a large meter/tuner in Reason and can also enable "Clip Safe," Propellerhead's new recording technology that with one click heals clipped recorded audio. Musicians no longer have to worry about losing a great recording because gain levels were too high, and can stay focused on creating that goose bump evoking performance.
Pricing and availability
Reason Essentials with Balance audio interface will be available for purchase worldwide on September 30, 2011 at a suggested retail price of EUR €499 / USD $499.
Any current Reason and Record user who purchases Balance can receive the Reason 6 upgrade for free.
More information on Reason Essentials with Balance can be found here:
www.propellerheads.se/products/balance/ .
VIDEO: