Powered Up Against Autism – Music Celebrities Come Out for the Cause
BEVERLY HILLS, Calif. — Nearly one hundred celebrities powered up and showed their support over two days for the fight against autism by signing a special edition BugE Personal EV Transport. The vehicle, built especially by Harvey Coachworks of Knoxville, MD., will be offered for auction on eBay.com from Dec 10th to Dec 20th to benefit Autism Speaks, a non-profit organization dedicated to the fight against autism.
The celebrities, in town in preparation for the American Music Awards, including Chris Daughtry, John Legend, and 3-6 Mafia, just to name a few, were extremely gracious and supportive of the cause, many sharing stories of their personal experiences with autism.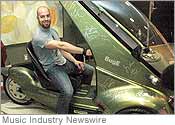 According to Phillip Hain, Executive Director of the Los Angeles Chapter of Autism Speaks. Autism affects one in 150 boys born in the U.S. today. Mr. Hain also added, "What you really need to know is that a child is born with autism every 20 minutes in this country."
"When approached with the opportunity to auction a BugE for a charity, Autism Speaks was a no-brainer as we have a 3 year old son Mitchell who was diagnosed last year," said Mike Harvey, President of Harvey Coachworks. "It's been a fun project to be part of and a win/win for everyone. Now, all we need is it to auction it for a good amount of money, so Autism Speaks can reap the benefit," added Harvey.
The BugE will be on display at an upcoming Electric Drive Transportation Event EVS23 from December 2-5 before going to auction the following week.
If you'd like more information about this topic, or to schedule an interview with Mike Harvey, please call 301/591-1340 or e-mail Mike@hevimotors(.com). No celebrity endorsement claimed or implied.
PHOTO CAPTION (above on page): Chris Daughtry sits in the BugE.
[tags]Chris Daughtry, fight against autism, American Music Awards, Electric Drive Transportation Event, Harvey Coachworks, BugE electric vehicle, EVS23 event[/tags]