Portable Music for iPod: EWOO eFizz, eFizz Travel and HandMusic Shipping Now
GENEVA, Switzerland — EWOO S.A. today announced their audio solutions for iPods: eFizz(R), eFizz Travel(R) and HandMusic(R). eFizz and eFizz Travel speakers were developed by EWOO through an unprecedented collaboration with CABASSE; the high fidelity speakers manufacturer for over 50 years, revered by audiophiles everywhere. The HandMusic remote instantly browses and displays all iPod and iPhone content from up to 500 feet away (line of sight). HandMusic also features a 1.8″ LCD TFT screen that displays album cover art and more and TouchWheel(TM) navigation to browse iPods and iPhone content.
The legendary CABASSE audio technology affords eFizz and eFizz Travel speakers with the alluring ability to reveal musical subtleties. "We recently launched eFizz in Europe with impressive results," said Dan Mamane, President of EWOO. "eFizz audio solutions elevate iPod speakers to a new standard; by incorporating exclusive CABASSE speaker technology. Together with HandMusic's remote functionality for accessing all iPod and iPhone content, eFizz, eFizz Travel and HandMusic are natural complements to iPod and iPhone users."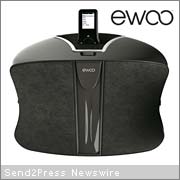 Guy Bourreau, CEO at CABASSE comments: "The enthusiasm, the experience and the professionalism, in a word the quality of the EWOO team working with CABASSE on this project guarantees its success. eFizz iPod audio systems were built to please even the most discriminating audiophile."
HandMusic remote will SRP at: $199.00, eFizz Travel SRP: $199.00 and eFizz Home SRP: $599.00. For information on EWOO product distribution, availability and pricing contact info@ewoo.com.
More information: www.ewoo.com.
About EWOO
Swiss based EWOO S.A. was founded in 2007 with a goal of providing users with innovative accessories that incorporate exclusive audio and video features. Inspired by audiophile demands, EWOO's eFizz products are the end result of several partnerships with leading industry icons in the audio and technology fields. With an eye towards the future, EWOO patents for audio, video, and sensorial navigation technology are on file with the U.S. patent office.
EWOO products provide intuitive user interfaces, innovative technical advancements and the integration of state-of-the-art technologies that result in unique, unrivalled products, designed to meet and exceed user expectations. "EWOO: Shake Your Digital Lifestyle(TM)." Please visit: www.ewoo.com.
[tags]EWOO iPod accessories, eFizz travel speakers for iPod, CABASSE Speakers[/tags]