Pitch Control TV Exposes the Best in Southern Hip Hop
HOUSTON, Texas — Pitch Control TV launches two new DVDs and announces a new and exciting Internet television show that is designed to entertain and entice Hip Hop music lovers, nationwide. Based in Houston, the focus is primarily on southern artists, but Pitch Control TV also showcases independent and major-label artists, coast-to-coast.
The web site, www.PitchControlTV.com, features exclusive interviews, freestyles, concerts, music videos, and behind-the-scenes material of well known and up and coming Hip Hop artists. Exclusive web clips of various Hip Hop events are also broadcast.
Volume One of the DVD series includes freestyles by Lil' Flip, Young Buck, Skip (UTP), Sean P. of Heltah Skeltah, and concerts featuring 50 Cent, Ja Rule, Z-Ro, Beanie Siegel, Snoop, Nate Dogg, Raekwon, and Ghostface. Exclusive music videos and performances by UGK, Lil' Flip, Clover Geez, Trae, and Grace of the Screwed up Click can also be viewed.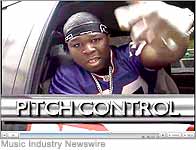 Volume Two focuses on the originators of Screwed and Chopped music, Houston Texas' underground legends of the Screwed up Click. Z-Ro, Trae, Lil' Flip, Bun B, HAWK, and DJ Screw appear in exclusive blends, music interviews, freestyles, music videos, and concerts.
Highlights on Volume Two include a behind-the-scenes look at Bun B of UGK's "Draped Up" video shoot, and Rap-A-Lot recording artist Trae's "Swang" music video shoot. Other exclusives include a "Private Jet" feature on Lil' Flip, interviews, concerts, and videos of Z-Ro, and a dedication to members of the Screwed up Click, who have passed away – Rest in Peace DJ Screw, HAWK, and Fat Pat.
"We are not like other Hip Hop web sites," Jake Varghese, partner in PitchControlTV.com said. "Our productions are professional and stylish and our goal is to be the leading source in music television for the south. There is nothing as good as Pitch Control TV out there."
Ariel Santschi, Varghese's partner, combines his 10 years of filmmaking experience with Varghese's 10 years of computer science and filmmaking knowledge. These talents led them to create PitchControlTV.com which will feature episodes taken from the TV and DVD series along with other exclusive content.
Pitch Control TV aims to serve as a conduit for people all over the world to enjoy the best Hip Hop/Rap music, videos, and events in the south.
In the 1980s, the rise and spread of Hip Hop culture from New York City and California spurred cities in the south to develop and nurture their respective Hip Hop scenes. Major record labels largely ignored the south for decades and southern rap artists were forced to release their music independently. Things have changed and the south has become a leading force in urban entertainment.
[tags]Pitch Control TV, Internet television show, Hip Hop music lovers, southern rap artists, Texas urban entertainment[/tags]