PACHECOS – FEAR OF A GREEN PLANET: Album Coming from Latin Thug Records
LOS ANGELES, Calif. — Following up on the success of their debut album "Beat Hustlers," Barcelona Spain's production trio – known as Pachecos – return with "Fear Of A Green Planet," an album that pays tribute to the classic Public Enemy album (Fear Of A Black Planet), while also promoting the legalization of their favorite herb. The project offers listeners a one-way ticket to the green planet, stopping in New York (Kool Keith, Lil' Dap, Apani, Silk Hash Mills, Thrillz), New Jersey (Lady Luck), Montreal (Bones Malone), Detroit (Frank N Dank), Virginia (Lil' Roc), Los Angeles (Jacky Jasper, Jack Herer), Las Vegas (Nick Hawkins), Madrid (Chirie Vegas) and Barcelona (Kunta-K, Flavio Rodríguez).
The album will be available digitally June 1 on iTunes, Rhapsody, MP3.COM and all other digital services; and the CD (with bonus tracks unavailable digitally) will hit U.S. retail stores September 6 on Latin Thug Records, distributed in the USA and Canada by Koch Entertainment Distribution.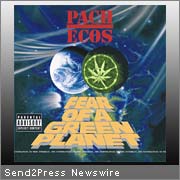 "It's a tribute to Public Enemy and to our favourite plant," assures band member Danny Brasco.
"Yes it's true, with this record we want to change the world," says band member Professor Angel Dust, smiling amidst a cloud of toxic smoke.
"We've played the majority of instruments in this album and we've done really what came out in the studio, adding many more layers of percussion, Hammond keys, bass and guitar than we did in the first álbum," says band member DJ Caesar.
The first single is "PIÑA COLADA" featuring KOOL KEITH, impacting U.S. urban radio now, after blazing up radio across Europe, topping play lists in Spain, Germany, France and more.
"Pina Colada is the big summer hit in Europe. It's bumping in every club and you heard it at every party at the Cannes Film Festival. Now its coming the USA," says Latin Thug Records President, Fred Sherman.
Latin Thug Records was founded by hip hop icon Sen Dog of Cypress Hill and has released albums from B Real and Sen Dog of Cypress Hill, Mellow Man Ace and super producer Fredwreck. The label will release "Fredwreck Greatest Hits Episode 2" in July.
LATIN THUG RECORDS INFO: http://www.latinthugmusic.com .
PACHECOS INFO: http://www.myspace.com/pachecosmusic .
[tags]Pachecos album, Latin Thug Records, Fredwreck Greatest Hits Episode 2, producer Fredwreck, Fear Of A Green Planet, Hip hop from Spain[/tags]