Open Labs Shows Off Open RiFF 2.0 – Now with Sequencing and External MIDI Hardware Support
COLUMN: — Open Labs yesterday announced and demonstrated their new software application, a ground up reboot of their Open RiFF, now at version 2.0. This new version of RiFF introduced last year brings a huge number of enhancements for hands-on music making with all Open Labs hardware products, most notably a new built-in sequencer and control of external MIDI hardware devices. All optimized for the Open Labs "touch" environment.
Well timed for the Summer NAMM show, this product is perhaps the most ambitious application yet offered by OL, and continues to develop the foundation of "why buy" an Open Labs music product versus a laptop and keyboard controller. Having a proprietary host, live performance controller, and easy-access sequencing environment posts a more powerful front end onto the OL keyboards.
Complaints with the first version have been well addressed through a lengthy alpha cycle of development and a fairly short beta period for existing customers to stress test the product with final feedback prior to shipping. So, the new version now features better support for seeing the virtual instruments and sounds installed through a new sound browser, better creation of controls for VSTis, and a global master FX bus. Also very notable is being able to send program changes to MIDI gear on song selection, and an external device can send change messages to RiFF for song selection — all of which make the product far more usable and robust for live performing versus the original version which seemed very much a work in progress.
So, one year later version 2.0 is the real deal and now gives other products on the market like Apple's Mainstage (Mac only), and Brainspawn Forte (which has offered external MIDI control for awhile now) a big run for their money. It's apparent that RiFF 2.0 has set a goal of doing MORE than what Forte can do, while providing an in-house "launch pad" that better integrates with Open Lab's custom control surfaces on their hardware (prior to RiFF, Open Labs included a rebranded version of Forte, called Karsyn with their keyboards).
Open Labs RiFF 2.0 will ship July 1, and will be a free upgrade for those who purchased OL gear in 2010, $50 for those with Gen5 gear, and $99 for older gear owners.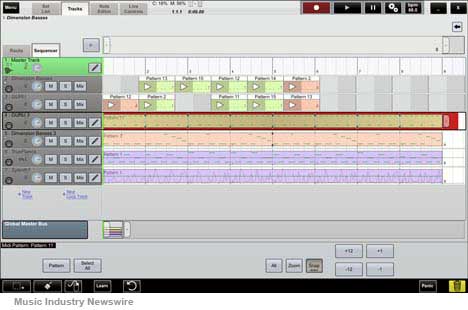 To see all the update info, visit http://openlabs.com/openriff.html .