One Man-One Bass Show 'Nukular Tulips' to Surprise Audiences in NYC
NEW YORK, N.Y. — Acclaimed jazz bassist Jay Leonhart will premiere his new one man-one bass show, "Nukular Tulips"(TM) on March 24 at Stage Left Studio in New York City.
Leonhart, who has played with everyone from Tony Bennett and Marian McPartland to James Taylor and Queen Latifah, still seems to have enough time in between bass notes to allow him to take a good look around the world to see what's going on.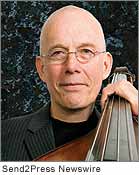 The songs in "Nukular Tulips" address surprising topics: from George Bush's (and Jimmy Carter's) pronunciation of "Nuclear," and the tulip crisis in Holland in 1620, to the current legal woes of the Barbie Doll – while other Leonhart songs in the show deal with the proliferation of Wonder Bras, and thoughtless ducks spreading viruses all around the world.
*(Photo Caption: Jazz bassist Jay Leonhart.)
The show's opening performance will take place on March 24 at 8 PM at Stage Left Studio, 438 West 37th Street 5A, New York, NY 10018.
For more information visit http://www.stageleftstudio.com or call 646-862-5419
[tags]jazz bassist Jay Leonhart, Stage Left Studio, Nukular Tulips, New York City concerts[/tags]