Nocturn: The First Small Footprint Intelligent Plug-In Controller
HIGH WYCOMBE, UK — Novation has announced the worldwide launch of Nocturn, their latest MIDI controller. Novation's most affordable hardware controller to date, Nocturn promises to unleash the full potential of all your favourite instrument and effect plug-ins. Featuring the latest Automap Universal 2.0 software, exclusive to Novation controllers, Nocturn provides automatic, instant and intelligent control of all automatable plug-ins within every major sequencer, including Pro Tools.
Nocturn features eight touch-sensitive rotary encoders, each equipped with a bright eleven-LED ring (ideal for laptop DJ'ing in a dark club environment). These are accompanied by eight user-assignable illuminated buttons and a smooth, professional 45mm cross-fader. The finishing touch is Novation's unique "speed dial"; a touch-sensitive rotary encoder that instantly takes control of whatever your mouse is focused on!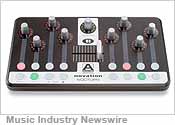 Featuring a revolutionary new "heads-up transparent control GUI," Automap Universal 2.0 places a transparent control map across your computer screen, to be recalled or hidden at will. Little or no user setup is required, and plug-in control can be customized to be laid out just the way you like it, no matter what music software you use. Simply boot up the plug-in, and you'll see at a glance how the parameters are automatically assigned to each of Nocturn's controls. An instant click and control 'learn' function is also available for quick re-assigning of controls, or for creating your own controller map in seconds. Multiple page options mean that you can assign a potentially infinite number of parameters for each plug-in.
Automap Universal 2.0 also categorises all your control maps. A simple browsing facility lets you review all open plug-ins, then quickly switch to control any one of them. Automap Universal 2.0 also supports standard MIDI protocol, providing the same heads-up display for quick and simple assigning of MIDI parameters. This ensures that Nocturn can also control an external hardware MIDI device, any non-automatable plug-ins, or the mixer page in your sequencer. Once a "MIDI map" is created, it can be saved and recalled via the same map browsing facility. A growing library of maps will be available to download free from www.novationmusic.com
Nocturn's spacious and tactile control surface, side mounted USB socket and ultra-low profile allow it to sit neatly in front of your QWERTY keyboard. Large, rugged rubber grips hold it steady whilst you let rip with your favourite music software.
The combination of Automap Universal 2.0's heads-up transparent control GUI and Nocturn's touch-sensitive dials remove the pain inherent in controlling multiple instruments and effects, allowing you to jump instantly from one plug-in to the next; so you're free to focus on what matter most – your music.
Nocturn is due to ship worldwide in Q1, 2008. For pricing details, contact your local Novation distributor. A list of international distributors is available online at www.novationmusic.com.
[tags]Novation Nocturn control surface, MIDI controller, automap for plugins[/tags]