NJ CD Release Parties: Michael Patrick's New Album, 'John Wayne Movies' Tells the Tale of Life Lessons and Love Lost
Country, folk, Americana singer-songwriter Michael Patrick will release his latest, long overdue recording, "John Wayne Movies" with two special CD release shows on October 13, 2018 at The Lighthouse Tavern, and October 20 at Roxy & Dukes in New Jersey.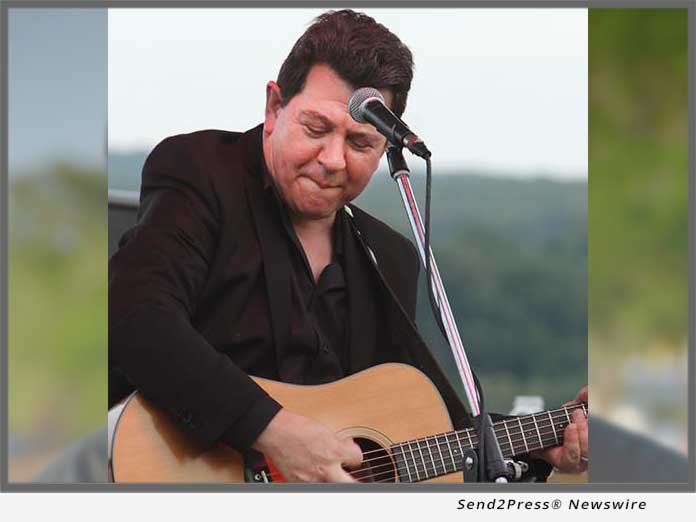 Named Top Country Folk Artist by the Jersey Acoustic Music Awards, Patrick has shared the stage with Randy Travis, Clint Black, Rosanne Cash, Marty Stuart, Billy Joe Shaver, The Marshall Tucker Band, The Outlaws, David Allan Coe and Gary Allan, Steve Earle, Carlene Carter, Justin Townes Earle and Chris Knight to name a few.
In addition, he founded and fronts local bands, "The Suburban Hillbillies" and "Ring of Fire," a Johnny Cash tribute band. Patrick's latest recording, "John Wayne Movies" is his fourth studio release, and includes ten Nashville and New Jersey produced tracks, seamlessly blending styles of Country, Folk, Roots and Rock. In the vein of Patrick's influences Lyle Lovett and Johnny Cash, "John Wayne Movies" defies labeling, and instead incorporates danceable melodies and heartfelt storytelling that nicely fit under the umbrella of Americana music.
The tales "John Wayne Movies" tells are born of Patrick's own personal tragedy and triumph in the years since his last release 7 years ago, "Another Song You Never Heard." Patrick, a longtime fundraiser for the Cooley's Anemia Foundation with his annual Jersey Country Revival benefit concerts, lost his wife of 20 years to complications from Cooley's Anemia in 2013. With "John Wayne Movies" Patrick leads the listener on a musical journey from the dark places to the uplifting and inspirational.
Patrick's take on love lost in the somber "When Everything was Broken," unconditional love found in folky "Man's Best Friend," growing up and growing wiser in the rocker "When I Grow Up," all come from a place of honest experience. Patrick' snarky, comedic side shines through in "good riddance" numbers that everyone can relate to, "It's Always My Fault" and "That Look."
With life lived and lessons learned, this new project unveils a more mature songwriter, willing to take risks on different musical styles and ideas. The title track, "John Wayne Movies" is written by Patrick's good friend and co-writer, Joe Iantosca. Patrick recalls hearing it many years ago and knowing then he wanted to record it. It's a nod to Patrick's fan favorite nostalgia songs, "My First Car" and "Cash in the Attic."
Patrick prides himself on energetic live shows, encourages audience participation and lots of spontaneous interaction. He feels a sense of obligation to connect with patrons, to deliver a smile and pull people out of their shells. Patrick has logged over 1500 live performances in the tri-state (NY, NJ, PA) area, in addition to annual tours down south. Along with his band he has performed at such prestigious venues as the Union County Arts Center, Strand Theater, Mayo Performing Arts Center, Paramount Theater, Bergen Pac, Stone Pony, Starland Ballroom and BB King's.
"John Wayne Movies" will be available for purchase at performances and through CDBaby.com, Apple iTunes and Amazon, as well as for streaming on Spotify and Pandora. Patrick maintains a website at http://www.michael-patrick.net/, which includes tour dates, news, photos, video and audio clips, and Facebook at https://www.facebook.com/michaelpatricksongs/.
SCHEDULE:
When: Saturday, October 13th, 7:30 p.m.
Where: The Lighthouse Tavern, Waretown, NJ
(Special Guests Elaine & The Cimarron Sky Band)
When: Saturday, October 20th, 8:00 p.m.
Where: Roxy & Dukes, Dunellen NJ
(Special Guests Mystic Twang).
For more information about these events, or to schedule interviews please contact Mike Szymanski with MPS Promotions at (732) 834-9781, or info@michael-patrick.net
Visit the website at: http://www.michael-patrick.net
Lighthouse Tavern is located at: 397 U.S. 9, Waretown, NJ Phone: (609) 693-3150
Roxy & Dukes is located at: 745 Bound Brook Rd, Dunellen, NJ. Phone: (732) 529-4464
VIDEO (YouTube):