Night River Records announces UK debut of Eagles Platinum Songwriter Jack Tempchin
SAN DIEGO, Calif. (MuseWire) – Jack Tempchin, a pioneering co-architect of the Southern California Sound, a classic country-rock movement popularized in the 1970s by The Eagles, will play his Diamond* platinum hits live for three nights in the United Kingdom on April 28th, 29th and 30th, 2010, Night River Records announced today.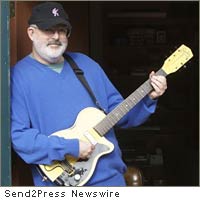 Forming the soundtrack to the "Southern California Sound," Jack Tempchin wrote and co-wrote the legendary hits Peaceful Easy Feeling and Already Gone for The Eagles (both on the best selling album of the 20th Century(*see note). He co-wrote You Belong To The City, Smuggler's Blues, I Found Somebody, The One You Love, and Sexy Girl with Glenn Frey. He also co-wrote two songs on The Eagles' latest CD "Long Road Out Of Eden" titled, Somebody and It's Your World Now.
Jack Tempchin also wrote the Top 10 hit Slow Dancing (Swayin to The Music) for Johnny Rivers. He's co-written with Tom Waits, J.D. Souther, Beth Nielsen Chapman, and Mickey Joe Harte. Jack Tempchin songs have been recorded by George Jones, Emmylou Harris, Glen Campbell, Patty Loveless, Tanya Tucker, Trisha Yearwood, Chris Hillman, Richie Havens, Randy Meisner and NRPS. His songs have been sampled by JAY Z. His music has been featured in movies "The Big Lebowski" and "Thelma & Louise."
Tempchin's next new solo effort titled, "Singing In The Street: Jack Tempchin Live At Tales From The Tavern," is a live recording slated for a summer release. This new CD/DVD will feature several of his multi-platinum hits performed primarily acoustic, interview segments, amusing anecdotes, and fascinating stories about his experiences with the rock stars behind the legendary songs.
This April, attendees of three UK concerts will delight in an evening of the same from this Very Special Guest. Dates:
Wednesday, April 28th
MILLFIELD THEATRE
Edmonton 0208 807 6680
Very Special Guest with Talon UK.
Thursday, April 29th
PALACE THEATRE
Southend On Sea, 01702 351135
Very Special Guest with Talon UK.
Friday 30th April
KEY THEATRE
Peterborough, 01733 207239
Very Special Guest with Talon UK.
JACK TEMPCHIN: www.PeacefulEasyFeeling.com .
U.K. TICKET SALES: www.talonmusic.co.uk/tourdate.html .
(*NOTE: source: www.riaa.com (THE EAGLES: THEIR GREATEST HITS 1971-1975).)