New York Singer Pyeng Threadgill to Perform at Blue Note Jazz Club's Late Night Grooves Series
NEW YORK, N.Y. — Critically acclaimed as one of the most inventive and visionary new voices in the progressive scene of jazz, Pyeng Threadgill brings her singular approach to song back to the New York stage for the new year. Pyeng will first be presenting her work on Saturday, January 10 at the Blue Note Jazz Club as part of the storied venue's popular "Late Night Groove Series." This after hours show will feature Pyeng with her stellar quartet consisting of Tyler Wood on keyboards, multi-instrumentalists Dimitri Moderbacher and Kevin Louis, and drummer Evan Pazner.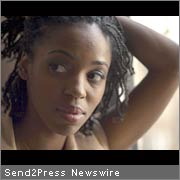 The very next night, Sunday, January 11, Pyeng will be featured within a bill of like-minded peers in the SanaaHouse Productions' APAP showcase "Voicing Between the Lines" at the Avenue A arts center Drom. There she will share the stage with other bold, boundaries-defying Black female artists such as Somi, Imani Uzuri, Zolani, Tamar-Kali and Sparlha Swa. Threadgill's resume also includes works with James Cammack, Gregoire Maret, Amiri Baraka (Leroi Jones), Ernie Hammes, Wolfgang Muthspiel among others.
At the end of the month, Pyeng and her band will perform at the Hudson Opera House on Saturday, January 31. These January 2009 shows will feature material from her previous two recordings "Sweet Home: The Music of Robert Johnson" and "Of the Air." More importantly, she will be sharing some sneak peek selections from her eagerly anticipated third project "Portholes to a Love & Other Short Stories," Pyeng's first album of all-self-penned material. That project is tentatively slated for a Summer 2009 release and will arrive after three years of work-shopping and development.
New York lower East Side native Threadgill, the daughter of saxophonist Henry Threadgill, earned a grant from the New York Foundation for the Arts to write songs based on short stories by world renowned authors. Reflecting on the creation of Portholes to a Love & Other Short Stories, Pyeng states, "For my first album of all original material I wanted to come with something that was strong in concept. I approached the project as a series of short stories. I was inspired by the author Isabel Ayende, whom I consider to be a magical realist."
Pyeng recorded her third and latest album last summer with engineer/producer Axel Miehaus (a veteran of sessions for Youssou N'Dour, The Roots, Common, Stewart Copeland, Ryuichi Sakamoto, Miri Ben-Ari and more). Threadgill worked out the material with her band mates in shows at NuBlu in Alphabet City.
Threadgill has been described as a fascinating artist whose work has been described by All About Jazz as of "fearless daring and crystalline invention," Pyeng is not only featured in the documentary on African musician Youssou N'Dour titled "Retour a Goree" directed by Pierre Yves-Borgeaud, she is the subject of her own work-in-progress documentary directed by Annabel Wong.
With her upcoming New York shows in January, Pyeng Threadgill hopes to expand her audience, particularly at the "Voicing Between the Lines" date. "I think it will be the perfect showcase for me because of the diversity of the lineup. I've never considered myself to be just a jazz or blues singer. My work is based in improvisational music but all of it has a groove…because it's the groove that connects you to the audience."
PYENG THREADGILL JANUARY 2009 PERFORMANCES
Saturday, January 10th
Late Night Groove Series
Blue Note Jazz Club – 131 W. 3rd Street – New York, NY 10012
Showtime: Midnight / Admission: $8
Sunday, January 11th
APAP Showcase – "Voicing Between The Lines"
Drom – 85 Avenue A – New York City 10009
Showtime: 9 p.m.
Saturday, January 31st
Hudson Opera House
327 Warren Street – Hudson, New York 12534
Showtime: 8 p.m.
[tags]jazz singer Pyeng Threadgill, Progressive Black Female Showcase, Blue Note Jazz Club[/tags]