New TC Electronic BG250 Bass Combo Gives Bass Players the Power to Choose On-Board FX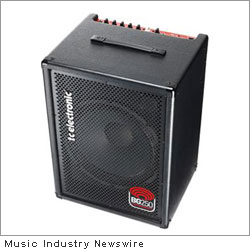 FRANKFURT, Germany (MuseWire) – The BG250 1×15-inch ultra-light bass combo is the first amp in history with the power to choose and replace on-board effects time and time again. The revolutionary TonePrint concept offers signature tones created by an ever-expanding list of the world's finest bass players.
Players such as Nathan East (Eric Clapton, Fourplay, Toto), Charles Cave (White Lies), Michael Shuman (Queens of the Stoneage), Gail Ann Dorsey (Lenny Kravitz, David Bowie, Seal), Mark King (Level 42), Roscoe Beck (Leonard Cohen, Robben Ford) and many more – all free of charge. In other words, this loud, light and open-design amp will surpass everything that is to be expected from a bass combo.
BG250 comes packed with 250 watts of power, delivered through TC's cutting-edge, lightweight Class D amp technology that helps bringing the total weight of BG250 down to an extremely portable 16 kg / 35 lbs., making it one of the lightest yet loudest combos in its class. The preamp features an ultra-fast, integrated 5-string bass tuner, TubeDrive and intelligently contoured Bass Tone controls that create anything from crispy, modern slap tones over grungy, cranked-tube-like tones for classic rock to tight and funky Jaco tones with ease.
Further, an Auxiliary input and headphone output cater for any playback and rehearsal situation, while a balanced XLR output makes recording and live performance a breeze, all of which is underpinned by the cornerstone of great bass amps: superb tone. But coolest of it all is the white TonePrint® knob…
What is TonePrint?
TonePrint is a flexible effect slot that lets the user decide exactly which effect the amp should use at any given time. BG250 comes loaded with TC's legendary SCF Chorus as default, but numerous new bass effects can be downloaded from TC's website, replacing the chorus with other effects such as Octaver, Compressor, Overdrive, Distortion, Flanger and Vibrato. To make the deal even sweeter, TC had some of the best bass players in the world tailor their own personal effects tones for anyone to grab, and best of all – these Bass TonePrints are completely free of charge.
To load new types of effects or the artist-made Bass TonePrints, users can simply hook up their amp to a computer via the included USB cable. Or even cooler: beam directly from their smartphone straight into BG250 using the mind-blowing TonePrint App for iOS and Android. Quite simply, it is an ever-expanding effects joyride, as new TonePrints will be added constantly in the future. This is merely the beginning.
BG250 Main Features:
• TonePrint – The Power to Choose effects and Artist
• 250 Watts of Power
• Weight: 16 kg / 35 lbs
• Built-in Bass Tuner
• TubeDrive – Tube Pre- and Power Amp Emulation
• World-famous TC Bass Chorus Pre-loaded
• Bass Contoured Tone Controls
• Rehearsal Input – Playback in Speaker or Headphones
• Balanced out – Seamless Recording or PA Output
• High-power Headphone Output – for Silent Rehearsal
• Footswitch Control of TubeTone, Tuner & TonePrint (optional)
• 15" Custom TC Driver, Custom TC Tweeter.
Available May 2012 in the EU, June 2012 in the US.
Price
USD 399 MAP
EUR 399 SSP
GBP 329 SSP.
MORE INFORMATION: