New Music: Joss and Colosio Create a Country Music Song of Love and Remembrance
LOS ANGELES, Calif. — The new song from country duo Scott Joss and Doug Colosio is "Darlin'," a deeply-felt ballad that celebrates many aspects of love. Released by Golosio Publishing (golosio.com), "Darlin'" is quietly exciting in a very peaceful and intimate style. "If ever a song could be said to wear its heart on its sleeve, this is the one," says John Scott G, a partner in Golosio Publishing. "The lyrics are very down-to-earth but they pack an emotional wallop. Best of all, there is a special feeling to the song that can only be called timeless."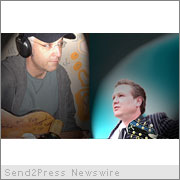 Emphasizing that timeless quality is the music video for "Darlin'" which features contemplative photographs from the 1930s, 1940s, and 1950s. "The photos are of parents and grandparents of Golosio employees," G states," and this makes the video and the song a kind of love letter to our families."
The video, produced by the FookMovie collective, is available on YouTube, Veoh, Blip, and the Joss/Colosio page on Beta Records: betarecords.com/scott.joss.and.doug.colosio .
About Doug Colosio:
Keyboard player and songwriter Doug Colosio has performed with Willie Nelson, Merle Haggard, Charlie Pride, Jewel, and many others. He's been seen on Letterman, Leno, Austin City Limits, and in concert with some of the most important figures in today's music. His recording, "American Piano," is part of the Sony Sound Series.
About Scott Joss:
Songwriter, guitarist, fiddler, mandolin player, and singer, Scott Joss moved from winning the California State Men's Fiddle Champion three consecutive years to playing with Dwight Yoakam, Pete Anderson, Tiny Moore, Roy Nichols, Dusty Wakeman, and his fiddle teacher, Jana Jae (of Buck Owens fame).
[youtube:http://www.youtube.com/watch?v=vYuXi9pZAu0&hl&autoplay=1 400 326]
Joss and Colosio are currently members of Merle Haggard's band, The Strangers. Together with John Scott G, all are partners in Golosio Publishing.
[tags]Golosio Publishing, Country music duo, Scott Joss and Doug Colosio, John Scott G, Beta Records, FookMovie, music video[/tags]