Is This New Indie Music Band Dissing Taylor Swift on Her Tumultuous Love Life?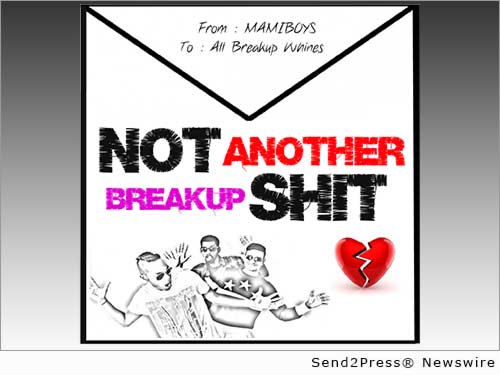 Mamiboys, an International performing indie band on the M-Boyz Recordz label, has recorded a new single, which by all intent is a jab on Taylor Swift's music career and personal love life. Although the indie band does not explicitly mention Taylor Swift by name, there are insinuations in the Mamiboys' "Not Another Breakup Sh*t" that cannot be ignored, according to the band.
The first verse of the song, which was published on social media by Mamiboys makes some heavy inferences on what the Mamiboys think is behind Taylor Swift's tumultuous love life. "If you wanna Shake It Off go listen to Pop and EDM. I'm about swifting lines with tailored rhymes. Not about busting break up as f***ing crimes," the lyrics infer.
However, that is not the only line that will be causing the 24-year old serial dater hot flushes across her face. Everything from the title of the song to the lyrics are one big jab on Taylor Swift, who, on several occasions, has admitted that her ex-boyfriends are what inspires most of her love ballads.
Taylor, who was thrust into stardom at the tender age of 14, has had a fair number of suitors over the years. Her last suitor was none other than One Direction's heartthrob, Harry Styles. However, unlike other celebs who rarely mix their love lives with their music careers, Taylor has always felt the need to expose her heartbreaks into her music.
Every breakup she has suffered has been followed by a love ballad, which is where the Mamiboys draw the title of their single, "Not Another Breakup Sh*t."
Although no one can tell with certainty what the beef between the Mamiboys and Taylor Swift is, it is not uncommon for rock and rap indie bands to unleash "diss tracks" on musicians. And in case there are any questions about who the subject of the song is, the Mamiboys clear every single one of them away with this one line, "I'm blank up by some girls I've seen in time. If these B*****s space up then love be gone. If these B*****s talk on love then love be wrong." To make it murkier, the Mamiboys advertently mention "Shake it Off" and "Blanked," which are titles of two songs from Taylor Swift's latest album, "1989."
Now, that is quite a lot of diss on one verse of a song, and there is no telling what the other verses contain without a listen.
About Mamiboys:
Mamiboys is an international performing rap/rock indie music band. Members of the Mamiboys hail from Singapore and India. The band, which had its debut in 2007, has worked with many award winning music producers. Its soundtracks have also been featured in several Bollywood blockbusters including the 2012 award-winning short film, "Roadside Ambanis."
Official website: http://www.mamiboys.com/ .
Youtube Link to Song:
http://youtu.be/Vrr03oNE628
Also on social media at:
Facebook: https://www.facebook.com/mamiboys .
Twitter: https://www.twitter.com/mamiboys .