New Dante Enabled PENTA 725 IP audio router Launched at IBC 2011
PORTLAND, Ore. (MuseWire) – NTP Technology unveiled the newest addition to its wide range of broadcast-quality audio routing and control systems at IBC 2011. NTP's new Penta 725 IP audio router is based on Audinate's Dante technology, and will interoperate with products of other brands that support Dante networking. The new PENTA 725 IP audio router enables audio routing over IP based Gigabit Ethernet with linear PCM audio quality and sub-millisecond latency.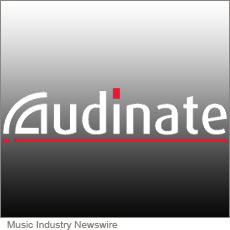 The Penta 725IP router supports a capacity up to 1024 x 1024 cross points with 64 bi-directional channels over IP, 64 AES3 I/O channels and 6 optical MADI or router connection interfaces housed in a 1U 19″ chassis.
Dante delivers a no-hassle, self configuring, true plug-and-play digital media networking that uses standard internet protocols. Audinate's patented Dante offers a market leading solution today, while future-proofing implementations by providing a migration path to upgrade to new emerging A/V standards such as the IEEE Audio Video Bridging ("AVB").
"Internet bandwidth is increasing in many countries, giving broadcasters the option of using far more cost-efficient IP-based networking in place of traditional leased telco lines," details NTP Technology Sales Director Mikael Vest. "The PENTA 725 IP combines standard time-division multiplex routing with the ability to interface audio via Gigabit Ethernet. Choosing Audinate's Dante was an easy decision for us. First of all, Dante is the most advanced digital media networking solution in the world today and secondly, utilizing Layer 3 will enable broadcasters to route traffic from one city to another city as one crosspoint, to form a true IP media network"
Umberto Zanghieri, ZP Engineering, Audinate's authorized distributor and engineering partner in EMEA remarks "The engineers at NTP didn't waste any time developing the Dante version of the Penta 725 router. I was extremely impressed by their speed from idea to development and to the actual product. Their design team is very efficient and capable."
"We are excited to see the Penta 725 IP as another solution for the broadcast marketplace," says John McMahon, VP of Sales, Marketing and Support at Audinate. McMahon adds," We look forward to more Dante products from NTP Technology in the future."
About Audinate
Audinate revolutionizes the way that AV systems are connected by transporting high-quality media over standard IT networks. Using Audinate's patented Danteä networking solution, digital media networking just got easy. Audinate's solution has been licensed by customers across the AV industry and can be found in installations and live sound applications globally. Audinate is a Promoter Member of the AVnu Alliance™. Audinate offices are located in US, United Kingdom and Australia. Dante is a trademark of Audinate Pty Ltd.
Visit www.audinate.com for the latest news and information on the company.
About NTP Technology
NTP Technology (www.ntp.dk) produces high-reliability audio routing and signal processing systems for major international broadcasters, audio mastering and editing studios. NTP products are integrated into television and radio stations as well as production centres, post-production facilities and outside broadcast vehicles. Based in Copenhagen, NTP is part of Dan Technologies' Group, one of Europe's leading suppliers of audio, video, transmission products and digital media solutions.