New BEHRINGER VM1 Vintage Time Machine Floor Pedal
Bothell, Wash. — BEHRINGER adds to its line of effects pedals with the new VM1 Vintage Time Machine. 550ms of true analog delay deliver the great sound of tape echo machines popular in the 70's. Effects include Delay, Echo, Chorus and Vibrato. Flexible sound-shaping controls including Effect Mix, Feedback, Delay Time and switchable Chorus / Vibrato with variable Depth dial in a wealth of classic sounds. An Input Level control with Overload LED and a true hard-wire bypass foot-switch assure signal fidelity and integrity.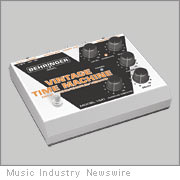 The VM1 features a super-bright status LED, rugged all-metal chassis and includes an external PSU-SB DC power supply.
* True analog delay – up to 550ms
* Analog tape echo machine sound
* Delay, Echo, Chorus and Vibrato effects
* Input Level, Mix, Feedback, Delay and Chorus / Vibrato depth controls
* Overload and Effect Status LEDs
* True hard-wire bypass footswitch
* Input, Direct Out and Effect Out 1/4″ metal jacks
* External PSU-SB DC power supply included
* Rugged all-metal chassis
Price details US $99.99.
[tags]VM1 Vintage Time Machine pedal[/tags]