Native Instruments Releases Version 1.1 of TRAKTOR PRO and TRAKTOR SCRATCH PRO
Berlin, Germany (MuseWire) – Native Instruments today released TRAKTOR PRO 1.1, a free software update for the latest generation of its digital DJ products. The update brings a new "Advanced Relative Mode" for TRAKTOR SCRATCH PRO with many advantages for time-code control, a new high-quality time-stretching algorithm, high-resolution MIDI support, a convenient hardware setup wizard, and many other improvements that make the new TRAKTOR generation even more powerful and convenient.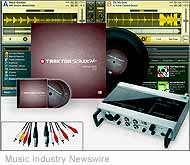 The unique new "Advanced Relative Mode" in TRAKTOR SCRATCH PRO 1.1 breaks new ground for digital vinyl systems. Now completely free of "sticker drift" both in vinyl and CD mode, advanced relative mode also allows DJs to finally utilize the original looping, cueing and searching functions of their CD decks while spinning time code.
Added support for 14bit-MIDI in version 1.1 allows TRAKTOR PRO to leverage the extended precision and responsiveness of high-resolution knobs and faders on various current DJ controller models. The new Z-Plane Elastique V2.1 timestretching algorithm improves audio quality of the keylock, while the advanced Setup Wizard in TRAKTOR PRO 1.1 now makes setting up interfaces and controllers a fast and convenient process.
Further improvements in version 1.1 include a new "Manual" clock mode, Synchro Start, MIDI and keyboard mapping enhancements, and a wide range of minor optimizations and fixes.
The 1.1 update is now available as a free download for all owners of TRAKTOR PRO and TRAKTOR SCRATCH PRO.
More information on TRAKTOR PRO and TRAKTOR SCRATCH PRO can be found at
www.native-instruments.com/traktor.info
About Native Instruments:
Native Instruments is the pioneer and market leader in the field of software instruments, and one of the key players in the market of computer-based audio production technology. The company's mission is to develop outstanding musical tools for all styles and genres. The resulting products regularly push technological boundaries and open up new creative horizons for professionals and amateurs alike.
[tags]DJ controller, traktor scratch pro update[/tags]