Native Instruments Introduces CONANT GARDENS for MASCHINE: hip-hop, funk, afrobeat and deep house
BERLIN, Germany (MuseWire) – Native Instruments today introduced CONANT GARDENS, a new MASCHINE Expansion that reflects the soulful side of Detroit – covering hip-hop, funk, afrobeat and deep house. Named after the district of Detroit renowned as the birthplace of many African American musicians and artists, this expansion explores the distinctive sound of the neighborhood through tailored drum sounds, percussion and sampled phrases.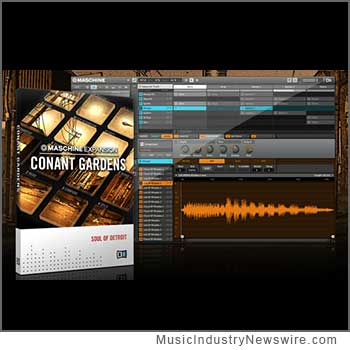 CONANT GARDENS was created by Amp Fiddler – former Parliament/Funkadelic keyboardist and long-time mentor to J Dilla. As a producer, the late J Dilla is credited with defining modern underground hip-hop. Dilla's smoky, soulful and sample-heavy sound is recreated by this MASCHINE Expansion, and further enriched by Amp's access to Dilla's extensive library.
The 45 kits in CONANT GARDENS mix one-shot drums and long-sample basslines, clavinet riffs, guitar and Rhodes piano phrases. Set to ADSR mode, classic sample techniques are emulated, while providing an intuitive way to play the phrases. Amp Fiddler's riffs and melodies, recorded on his own pristine collection of vintage and modern gear, are provided in their raw forms as additional Melodic Kits.
For instant use with MASCHINE or MASCHINE MIKRO, a number of pre-programmed patterns are provided that span Detroit's rich and varied musical landscape. Driving bass and drum rhythms from respected Detroit artists Black Milk and DJ Dez complement Amp's layered, melodic approach.
A compact version of CONANT GARDENS is also available for iMASCHINE – the groove sketchpad for iPhone® / iPod touch®.
CONANT GARDENS is available at the NI Online Shop for $59/49 EUR. A percentage of each purchase will be donated to the J Dilla Foundation. The iMASCHINE version is available at the in-app store for $0.99 / 0,79 EUR.