Native Instruments Announces new KOMPLETE 8 and KOMPLETE 8 ULTIMATE Virtual Instrument bundles
Berlin, Germany (MuseWire) – Native Instruments today announced new versions of its studio-standard software bundle. While KOMPLETE 8 has been further expanded to include 27 individual products at an unchanged price, the new KOMPLETE 8 ULTIMATE for the first time combines the full arsenal of Native Instruments' KOMPLETE Instruments and Effects range at the same substantial discount, with 50 individual products conveniently provided on a dedicated external hard drive.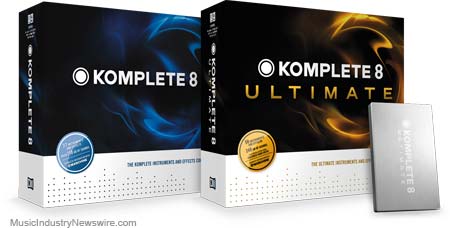 Further expanding its versatile sonic arsenal, the new KOMPLETE 8 includes the latest KONTAKT 5 and GUITAR RIG 5 versions, and adds the charismatic WEST AFRICA percussion instrument. It also incorporates the versatile new STUDIO DRUMMER drum production instrument and the upcoming TRANSIENT MASTER dynamic processing effect. Furthermore, KOMPLETE 8 includes over 1,300 additional presets for ABSYNTH, FM8 and MASSIVE, derived from several acclaimed soundpacks previously available as individual products.
The new KOMPLETE 8 ULTIMATE includes the full content of the regular KOMPLETE 8 bundle and much more, combining the full range of all currently available KOMPLETE Instruments and Effects on a dedicated USB 2.0 hard drive. The resulting collection comprises 50 individual products with over 13,000 sounds and 240 GB of sample content, at an effective discount of over 80% compared to the individual prices. The hard drive enables a fast and convenient installation process, and also constitutes a compact and robust backup medium for the software.
Both new KOMPLETE versions are optimized for Native Instruments' groove production system MASCHINE, offering direct browser integration with attribute-based preset search as well as convenient automatic parameter mapping for the rotary knobs on the hardware controller.
KOMPLETE 8 will be available in September 2011 for a suggested retail price of $559 / 499 EUR, with an update for owners of previous KOMPLETE versions available for $229 / 199 EUR.
KOMPLETE 8 ULTIMATE will be available at the same date for $1099 / 999 EUR, with an upgrade for owners of any version of the regular KOMPLETE bundle available for $559 / 499 EUR.
Additional information on KOMPLETE 8 is available at
www.native-instruments.com/komplete
Additional information on KOMPLETE 8 ULTIMATE is available at
www.native-instruments.com/ultimate .