NARIP Phoenix Appoints Scott and Sotos to Leadership Roles
PHOENIX, Ariz. (MuseWire) – With the continuing expansion of music in and around the Phoenix area, the National Association of Record Industry Professionals (www.narip.com) appoints Les Scott and Peter Sotos to board positions in the NARIP Phoenix chapter.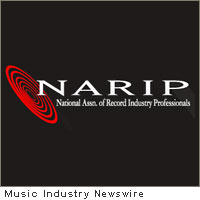 "Phoenix is a vital region for music, with a fast-growing industry to support it, and we are delighted to have a strong and expanding presence there," says NARIP president Tess Taylor. "Les Scott and Peter Sotos epitomize the modern music entrepreneur: both have immense business savvy and music experience, and they are well-connected and highly creative go-getters which is essential for success in the today's music industry. With their combined experience, we will take this chapter to a new level in 2010, and we are thrilled to have them on board to grow NARIP in this important region."
Meet Scott & Sotos – January 27, 2010
Meet Les Scott and Peter Sotos in Phoenix at NARIP's next program – How To Create A Grand Slam Music Marketing Plan – to take place at Mesa Community College on Wednesday, January 27. Come hear what we have planned for NARIP Phoenix 2010 and let us know what you want and need! Go to www.narip.com for details.
About Les Scott
Les Scott is a veteran of the music industry and is uniquely positioned to help NARIP members in Phoenix identify opportunities within this business. His publishing company Source Q Boutique specializes in music placement in film & television, and currently represents over 350 writers/artists. SQB is exclusively marketed through its alliances Crucial Music Group, Fuze Artz and Expressive Artists. Mr. Scott consults on intellectual property and other legal matters such as band agreements, record contracts, writer collaborations, performance releases, cue sheets and other custom agreements. As a producer, he is commissioned to write and produce songs for such companies as BMG, FirstCom, Universal Music Group and Network, and has produced over 125 artists/bands in all genres. He knows the current buyers of music and what type of music is in demand. With his hands-on practical knowledge of how music makes money, Mr. Scott understands the marketplace and can offer insight to writers and artists on what they need to know.
About Peter Sotos
Peter Sotos is founder of Fireball Music Management, a full service artist management company. Fireball specializes in taking acts to the next level through focused marketing and promotion, and specializes in finding each band's unique niche to maximize its full potential. Fireball believes in its acts and operates with honesty and integrity. With established relationships at radio stations, record companies, management companies, and with producers, promoters, venues and clubs and other industry professionals, Fireball gives its artist clients the platform to have their music heard by people in a position to advance artist careers. Fireball's motto is "Turn up the heat in promotion!" Current and recent clients include Led Zepagain, Damage Incorporated, We Are They, Interfate, Halocene and Blameshift.
"We're delighted to have bring Scott and Sotos on board to grow NARIP in this important and cutting-edge region that brings the world so much great music." Scott and Sotos join NARIP Chapter Director Jason Coochwytewa in leading the charge in this region.
About NARIP
Formed in 1998, the National Association of Record Industry Professionals (NARIP) promotes education, career advancement and good will among the new breed of entrepreneurial record executives. Based in Los Angeles with chapters in New York, Las Vegas, San Francisco, Phoenix, Houston, Philadelphia and London, NARIP offers professional development opportunities, educational programs with top executives, the opportunity to meet and interact with peers, a job bank, mentor network, newsletter and more. Having members at all major multinationals, many independent labels and start-ups in the U.S. and worldwide translates into information and access for you. NARIP has connected countless people to industry jobs and opportunities, and facilitated in launching hundreds of projects and several companies. NARIP specializes in helping the modern professional form strong business relationships across the global music marketplace.