NARIP adds additional date to Music Supervisor Sessions in London Event Series
LONDON, U.K. (MuseWire) – NARIP (National Association of Record Industry Professionals) president Tess Taylor leads a delegation of creative music executives from New York to London this week for meetings to create new opportunities for music whose uses contribute to the national economies of the United States, the United Kingdom and world culture. Feb. 28 events sold out, but new date added on Feb. 27.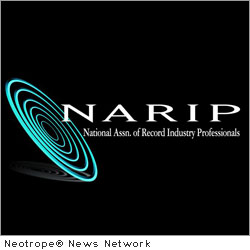 While in London the group will be featured at four music acquisition sessions for global brand and advertising campaigns, and meet with music organizations and government agencies, including the British Phonographic Industry (BPI), the Association of Independent Music (AIM) and the Music Publisher's Association (MPA), which work to promote and strengthen the protection of Intellectual property rights.
NARIP brings music supervisors from two leading multi-national advertising agencies, Ryan Fitch (Music Producer for Saatchi & Saatchi North America) and Jessica Dierauer (Executive Producer of Music and Creative Content for Young & Rubicam), to London to conduct a series of educational programs for the British music industry. These programs create an opportunity to develop relationships and encourage the use of British music in American national and global advertising campaigns.
Last year's London sessions with Hollywood music supervisors Andrea von Foerster (Grey's Anatomy, Chronicle, 500 Days of Summer) and Chris Mollere (Vampire Diaries, Pretty Little Liars) sold out.
Seeking Music For Global Advertising Campaigns:
Fitch and Dierauer actively seek music for current advertising campaigns, and music publishers, record company executives, personal managers and others will present to them in London for consideration. Such music placements generate licensing fees and public performance royalties to their creators and owners, stimulate CD and digital sales, increase consumer awareness and media interest, and can provide an important vehicle for developing new artists to recognition and success.
"We have created a new access point that wasn't available before," says Tess Taylor President of NARIP and creator of its Music Supervisor Sessions. "Our sessions have sold out in four cities and yielded multiple placements for participants including in the #1 box office film Chronicle, True Blood, Dexter, Don't Trust The B—- In Apt. 23! and more."
Two of NARIP's Music Supervisor Sessions in London next week are SOLD OUT, more dates added:
– Feb 27 with Fitch – JUST ADDED;
– Feb 27 with Dierauer – JUST ADDED;
– Feb 28 with Dierauer – SOLD OUT;
– Fen 28 with Fitch – SOLD OUT.
"British music has always enthralled me," says Fitch. "From Led Zeppelin and the Who to Dubstep, I always try to be aware of new music trends from the Mother Country before they become mainstream here in the States. I look forward to meeting people in London who can help me discover new sounds for my projects!"
"England has always been a musical goldmine," says Dierauer. "The best bands hail from there, and I always keep my ear open to what's going on across the pond. Current favorites include Metronomy, PJ Harvey, SBTRKT, Summer Camp, Still Corners and WU LYF."
Get More Info, Executive Profiles, Logos, Photos and Register Here NOW: http://www.narip.com or http://bit.ly/NARIP-UK .
About NARIP:
NARIP promotes education, career advancement and good will among record executives. Based in Los Angeles, NARIP has chapters in New York, Atlanta, San Francisco, Phoenix, Houston, Las Vegas, Philadelphia and London, and reaches 100,000+ people in the music industries globally.