NAMM 2012: DEELEEBOB Music Products will be showing its latest product
Seoul, South Korea (MuseWire) – DEELEEBOB Music Products, is exhibiting for the first time at Winter NAMM 2012, Booth #3496 – The Effect Rack. This new product provides benefits musicians / technicians and music enthusiasts. The bracket device allows for safe carriage and easy access to a variety of devices normally placed hap-hazard on top, or beside an amplifier.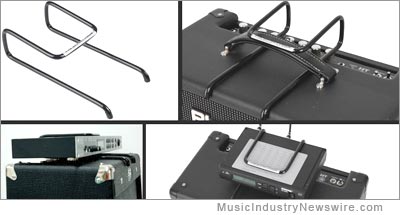 The Effect Rack(TM) uses a friction clamping action to hold in place a 1U or half rack space device, iPad, wireless receiver, DI box, Speaker emulator, custom pedal board, and other similar sized music gear.
The Effect Rack was designed to keep your gear safe and secure while you record / perform / practice from music books or music charts, or just hold your gear safe while you jam with your friends. A benefit to any musician no matter what instrument you play.
MSRP $29.95 and expected at a street price of $24.95 It is available now directly from the website and the growing number of dealers. (U.S and International Patents Pending, Euro Patent App. #2 339 865.)
More information: http://www.theeffectrack.com .