Mysterious Musician Jonny Harmonic Shines on New Album from Golosio
LOS ANGELES, Calif. (MuseWire) – Sleek beats and eerie melodies highlight 'We All Love Bright Shiny Things,' the new album from Jonny Harmonic, now on iTunes from Golosio Publishing (www.golosio.com). Harmonic is a mystifying musician no one has ever seen. "The guy comes in to record whenever no one else is present," states John Scott G, producer and composer at Golosio. "That may be what frees him to play in such an unusual yet attractive way."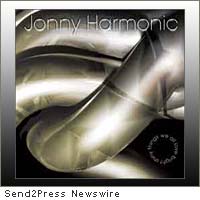 The dozen songs on "Bright Shiny Things" had demos created by G at the Golosio studios starting last year. Performances by the reclusive Harmonic took place after midnight but before sunrise and only on odd-numbered days.
"Not only has nobody seen Jonny Harmonic," G notes, "we're not even sure his photographs are accurate."
Golosio Publishing is pleased with the music on "We All Love Bright Shiny Things." One track, called "Explosive Chill," seems to sum up the album's musical approach by combining laid-back electronica with supernatural tunes that would suit a modern foreign film. "Bright Sun at Midnight at the Top of the World" is psychedelia that hypnotizes. "Snakeneck" is an evil slow dance tune. "88 Gates of Knowledge" is an ethereal and contemplative track. In addition to releasing the songs on iTunes, there are ten music videos on YouTube and FookMovie.com.
About Jonny Harmonic
This is the written statement supplied by the artist in a request for a bio: "Mr. Harmonic has no comment on rumors linking him to any ex-television series star currently in rehab."
About John Scott G
Starting out as The G-Man, creator of eight albums of electronica, Mr. G is currently the managing partner of Golosio Publishing. He now writes songs in pop and country genres and oversees the recordings of the Bella Swan Bass Society.
About Golosio Publishing
Other songwriters working with Golosio include Doug Colosio and Scott Joss (country, Texas swing), James Sotelo (rock and electronica), and DJ Insane (trance), as well as many country music writers. Doug Colosio has written with Merle Haggard and is featured on the Sony Acid "American Piano" recording. Scott Joss has collaborated with both Haggard and Dwight Yoakam. Golosio music has been heard in commercials for Verizon Wireless, Goodyear, the Auto Club, Micron, General Dynamics, and numerous regional brands.
For More Information:
Scott G of G-Man Marketing
info@gmanmarketing.com
818-223-8486
VIDEO — "Brushed by the Wings of the Temptress"