Music Marketing Website Takes Aim at Building MySpace Celebrity Status for Indie Artists
PHILADELPHIA, Pa. — It didn't take long for music marketing website, SoManyMp3s (www.SoManyMp3s.com), to become one of the most popular promotional tools for independent artists seeking to elevate activity on their MySpace page, say the project's founders. The service has one goal: to help independent artists reach "MySpace Celebrity Status" by gaining friends, and with the help of plays and visits.
The company's clients have climbed positions on the MySpace charts with the help of SoManyMp3s by acquiring thousands of plays and friends. Clients have also been featured in printed publications, on radio, and on television, talking about their success on MySpace.
And it looks like the customers are loving it. Since the launch in mid 2006, executives from the company state that "the website has already worked with over 2,000 clients and the customer retention is at all time high at 86% with over 300 revolving accounts."
SoManyMp3s' executives claim that "the competition does not exist, which drives investors anxious to get a piece of that pie." The company has recently rejected the bid from Klein Angel Investors, Inc of $250,000.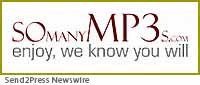 The company is spending countless hours on improvement of service and will have a few interesting developments in the future. For more information, visit: http://www.SoManyMp3s.com.
MySpace is a trademark and/or service mark of MySpace, Inc. All other trademarks acknowledged.
[tags]MySpace Celebrity Status, SoManyMp3s music marketing, promotional tools for independent artists, Bliss Promotions[/tags]