Music Industry Veteran Jonathan C. Bender Joins SoundExchange As COO
WASHINGTON, D.C. (MuseWire) – SoundExchange announced this week the appointment of Jonathan C. Bender to the role of chief operating officer (COO). Jonathan will assume responsibility for the organization's operational structure, including oversight of distribution and account services. He will also oversee repertoire management and the organization's database for tracking, collecting and distributing music royalties on behalf of artists and record labels.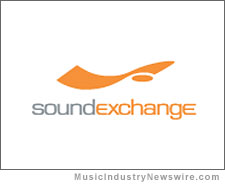 "As we move SoundExchange into its next chapter, we're fortunate to have Jonathan's deep level of operational, industry and technical expertise," said SoundExchange President Michael Huppe. "Jonathan has a solid reputation, most notably for pioneering digital content development for some of the world's leading record labels, and a track record in growing and transforming organizations."
"I am pleased to join a group of individuals who are passionate and committed advocates for recording artists and rights owners," said Jonathan. "Together, we have the potential to truly shape the future of music. I look forward to creating innovative and forward-looking operations that can help do just that."
Jonathan brings more than 20 years of music industry business and management expertise to his position at SoundExchange. Over the years, Jonathan has served in senior operational roles at Concord Music Group, Universal Music Group, and EMI Music.
Jonathan was senior vice president, operations, IT and digital development at Concord, one of the fastest growing independent label groups in the world. In this role, he designed and managed a consolidated digital infrastructure to host and distribute the artist catalogs of the three combined companies: Concord Records, Fantasy Records and Telarc International. He also led the integration of all physical product operations and revamped all of the group's online properties. Before joining CMG, Jonathan spent seven years with Universal Music Group, most recently as vice president, digital asset management and logistics. In this role, he served as team leader for building of the music industry's first e-commerce distribution infrastructure, and converted production operations from physical assets to digital, savings millions annually.
He holds a bachelor's degree from the University of North Carolina at Chapel Hill, where he was a Morehead Scholar, and an MBA from Harvard Business School.
Additional information on SoundExchange's management team can be found on the company's website at www.soundexchange.com.