Music Computing teases Gen 2 StudioBLADE – 12-core Xeon powered music workstation
AUSTIN, Texas (MuseWire) – Ahead of a formal announcement, Music Computing Inc. has started to tease release of their second generation keyboard music "power station," the StudioBLADE "Gen 2." According to the company, the StudioBLADE (Gen2) is "the world's most powerful keyboard production workstation." And the specs back it up with 12-Core Intel Xeon Processors, up to 192GB RAM (!), and Windows 7 (64-bit). Well equipped from (US) $3,999.
A notable change in the new version is the 10-inch touch screen has moved from right side to center, for easier visibility, with control surfaces on right side, and slanted access port on left for mic/line jacks and level controls. This improves ergonomics from the first generation; specifically, this makes it easier to use the StudioBLADE on a typical keyboard stand such as the Ultimate Support APEX stands, where previously the I/O was tricky due to center placement on back.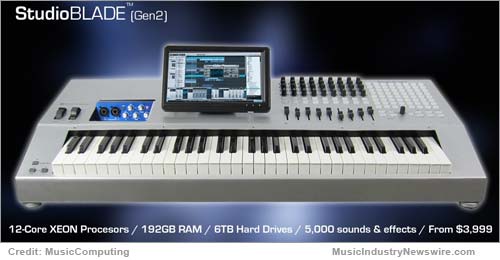 Computer I/O for VGA, DVI, HDMI and optional FireWire have moved to lower right side also for easier access.
Another neat innovation is the setup for user replacement/upgrade of the Presonus audio box in the event a newer/better/faster unit comes out (such as USB 3 support, etc.).
The second generation model appears to have lost the "boutique" metal volume knob that was on upper left of case, but that would be redundant with the new front panel knobs directly on face of audio interface.
Additional information can be found on the Music Computing website, at: http://musiccomputing.com/studioblade .