Music Computing releases ControlBLADE Gen3 Keyboard with 22-inch Touchscreen and with Mac OS or Windows On-board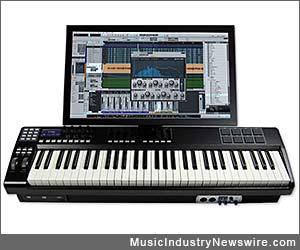 AUSTIN, Texas (MuseWire) – Austin based Music Computing this week announced their latest portable keyboard workstation, the ControlBLADE Gen3, with a complete PC inside running Windows or Mac OS, with a 22-inch touchscreen, and a breakthrough price point of US$1899. Options include SSD and Intel i5 or i7 processors. The company describes their ControlBLADE Gen3 as a "Keyboard Production Workstation."
What is a Keyboard Production Station? Keyboard production stations can be loosely defined as keyboard workstations that are connected to a computer, which is needed to provide additional processing power and features. While keyboard workstations are suited for live performance and sketching out ideas for a song, keyboard production stations, with built-in high-power computer cores, allow users to go from composition to recording to mixing and finally mastering of songs that are ready for radio or direct Internet distribution.
Powerful, Full-featured and Affordable: ControlBLADEs are powered by high-performance computer cores utilizing Intel® latest Core i-series third-generation (Ivy Bridge) processors that are perfect for today's demanding musicians and the virtual instruments and software application they use. Options include i5 and i7 quad core versions. The Windows 7 (64-bit) operating system is preconfigured for music production and can run virtually any software application or plug-in. Capable of running over 500 plug-ins at once, sequencing thousands of tracks simultaneously, and storing millions of sound presets, the ControlBLADE packs a serious punch for the money.
Hear the Difference: The standard configuration for ControlBLADEs include a 24bit-48 kHz audio I/O with two (2) combo XLR & 1/4″ mic/instrument 48V phantom power inputs, two (2) balanced outputs and a stereo headphone jack. The optional upgrade gives you a 24bit-96 kHz audio I/O with two (2) combo XLR & 1/4″ mic/instrument 48V phantom power inputs, six (6) 1/4″ balanced inputs (line-level), two balanced outputs and a stereo headphone jack. ControlBLADEs also offer Firewire ports in the event outboard audio I/O or other Firewire devices are needed.
Complete DAW: Included with each ControlBLADE is Studio One Pro from Presonus. This powerful digital audio workstation (DAW) software enables you to compose, record, edit and master your music with ease to produce professional quality songs. Included are both the 32-bit and 64-bit versions and an additional 10GB of sounds plus a large array of "ready to go" music software (complete list on website).
More information: http://www.musiccomputing.com/controlblade .