Music Computing Previews MotionCOMMAND 'Frame' System for Music Creators Who Want Multi-Touch from Existing Displays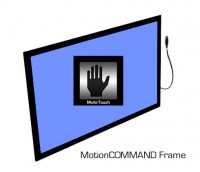 AUSTIN, Texas (MuseWire) – Music Computing is previewing a new product for musicians to easily add multi-touch capabilities for music creation to any existing monitor. To be formally announced the first week of May, this new product is called MotionCOMMAND Frame.
According to the preliminary information on the MusicComputing.com website: "MotionCOMMAND Frame is an innovative way to enhance your user experience by instantly turning any video monitor or TV into a multi-touchscreen. Simply attach the MotionCOMMAND Frame to your video screen or LCD, plug in the USB power/controller combo cable, run the calibration software, and you're done. Available in the following sizes: 17-inch, 22-inch, 32-inch, 42-inch, 55-inch, 65-inch and starting at only $199, MotionCOMMAND Frame gives you cutting-edge technology on a budget."
According to the site, pricing for the 17-inch model is $199, and goes up to $2799 for the 65-inch model.
Additional information will be available the first week of May, 2011.
Official preview video:
.