Music Computing Inc. releases StudioBLADE Gen2 TypeR edition of MIDI Workstation
AUSTIN, Texas (MuseWire) – Austin based Music Computing this week announced a new "souped up" version of their computer-based keyboard music workstations, the StudioBLADE Gen2, with a "TypeR" trim package. While it might not tear up the Nurburgring like a Nissan GTR, it does come with carbon fibre and custom livery like many glammed up sports machines.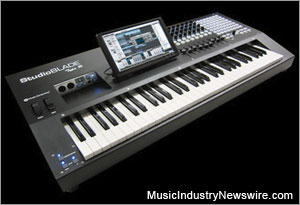 According to the company, "The TypeR trim package brings new meaning to the StudioBLADE keyboard production station line. Already the world's most powerful, the StudioBLADE Gen2 is no longer a wolf in sheep's clothing, it's straight up a monster."
What's included?: First, the TypeR trim package includes a satin black chassis, slightly textured and powder coated for ultra-durability and scratch resistance. Next, real carbon fiber end bells help set off the unique look of the StudioBLADE. Then custom TypeR graphics are silkscreened onto the chassis, with space left under the touchscreen for custom logos or names provided by the user. Finally, a blue LED equipped fan located on the bottom provides lighted ground effects in just the right amount. Together with the features found in the StudioBLADE Gen2, the TypeR trim package makes a commanding statement.
61 or 88 keys: The TypeR trim package can be added as an option to any StudioBLADE Gen2 models. Custom logos are available in 2 different styles: 1.) Vinyl cut sticker and 2.) Silkscreened. The Vinyl cut sticker version looks professional and neat, but will come off it scratched. The Silkscreened version is much more durable and is the same process we use for all other graphics on our products. For pricing and ordering, please visit our online store: http://www.musiccomputing.com/store .