Music Computing Inc. announces MotionCOMMAND line of music-centric multi-touchscreen panels for music creation, performance and production
AUSTIN, Texas (MuseWire) – They're all the rage. They're used by musicians, newscasters, business professionals, home theatre lovers and more. They're large format multi-touchscreen controllers and they're everywhere! And, Music Computing(TM) is the first company to deliver this revolutionary technology for amazingly low prices. "While we're rolling out several new products, these touchscreen products are designed for the widest-reaching audience," says Victor Wong, CEO of Music Computing.
Currently, Music Computing(TM) has four MotionCOMMAND(TM) multi-touchscreen products available: ClearView, LCD, Rack and WorkCenter. "And, our innovative MotionCOMMAND touchscreen products provide people with the ability to work in a more natural state leading to increased efficiency, better control over software interfaces and the elimination of having to map software controls to hardware controllers," Wong adds.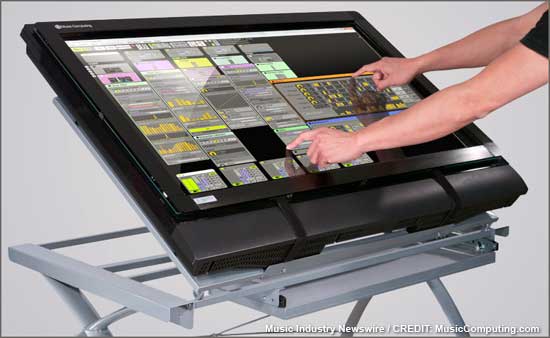 There are two versions – one driven by an HD video projector designed for live performance that is transparent on both sides; and one driven by an HD LCD television for studio use. Standard sizes are 32-inch and 42-inch, but special order versions up to 200-inches diagonally are also available.
Providing multi-touch and instant visual feedback, these controllers are compatible with Microsoft Windows(R) operating system and Mac OS(R) allowing for greater flexibility; they are constructed with unbeatable expertise, yet affordably priced from $1,499 to $2,299 (U.S. MSRP).
Options include multi-touchscreen controllers integrated into a control console complete with Music Computing's computer DAW (digital audio workstation) computer core and audio interface, ready to be used with any software to compose, record and produce music in homes and professional studios.
"And, it's not just for musicians," adds Wong. "This format allows users to interact with a wide range of technologies. It opens up opportunities for personal computing, hotels, shopping malls, public areas, and even for developing new exciting gaming environments. The possibilities for usage are endless."
About Music Computing, Inc.:
Victor Wong, with more than 20 years of industry expertise, brings his computer music and electronics design and development prowess to Music Computing, Inc. His mission for the company is to invent new technologies and to integrate them with proven standards leading to the best possible instruments for musicians and other tech-savvy users.
In addition to these innovative touchscreen products, other cutting-edge products include: all-in-one keyboard production stations – the most powerful available, but priced at keyboard workstation prices; and laptop keyboard production station docks – the first product of its kind commercially available – mainly designed for Apple's MacBook Pro series laptops, but able to work with virtually any laptop, including most 13-inch to 17-inch models.
For more information, and to view products available for order and shipment, visit: www.MusicComputing.com .
VIDEO: