Music Computing announces New MotionCOMMAND Gen2 Line – Cross-platform Touchscreens for MacOS and Windows
AUSTIN, Texas (MuseWire) – Tired of reaching up to your computer screen to move things around with your hand and then realizing it's not your smart phone? Well, you can finally give your computer the finger. MotionCOMMAND (Gen2) is the latest update to the popular MotionCOMMAND line of multi-touchscreen products from Music Computing.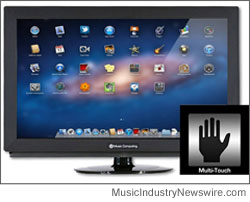 The MotionCOMMAND series have been used in many installations including major universities, museums, fortune 500 companies, and of course music studios. Music Computing was the first to provide true multi-touch capabilities to the general public at reasonable prices. The new Gen2 versions add to the mix cross platform capabilities and a reduction of cost up to 60% from the Gen1 models.
"We have become a leader in touch technologies in today's computing world," said Victor Wong, CEO, Music Computing, "but we're not the type of company that will rest on its laurels. The new MotionCOMMAND Gen2 models represent a giant leap in usability and value."
Available models include the MotionCOMMAND LCD, a turnkey multi-touchscreen that includes TV functions, the MotionCOMMAND FRAME, a touchscreen add-on kit that will turn any LCD/LED into a multi-touchscreen, and the MotionCOMMAND CLEARVIEW, a transparent multi-touchscreen display system.
An assortment of sizes are available from 17" to 100", however; only sizes from 32" and larger are cross-platform at this time. Simultaneous touch options include: 2, 4, and 32 touches.
Prices start at $199 and the products are currently shipping.
For more information and to view products available for order and shipment, visit: www.musiccomputing.com .
VIDEO: