Music Computing announces MotionCOMMAND Multi-Touch Touchscreens for Mac OS X
AUSTIN, Texas (MuseWire) – They're everywhere and are finally here for Mac OS X. Used by newscasters, business professionals, home theatre lovers, PC gamers and even toddlers, touchscreens are the next evolution in human – computer interaction. Today, Music Computing brings this exciting technology as complete fit-for-purpose solutions to the Mac OS community. The MotionCOMMAND line represents the latest in multi-touch technologies at affordable prices.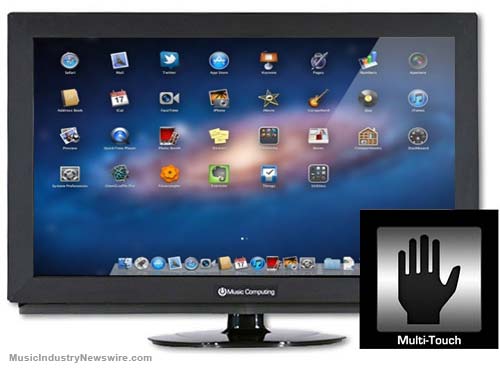 Models include the following:
1.) MotionCOMMAND LCD – a complete solution ready to be used right out of the box based on a LCD TV platform.
2.) MotionCOMMAND Clearview(TM) – a "see-through" screen similar to ones depicted in movies like Iron Man and Minority Report, providing maximum visual impact for live performances and demonstrations.
3.) MotionCOMMAND FRAME – a touchscreen frame that will instantly turn any video monitor or LCD into a multi-touchscreen.
Sizes range from 17″ up to 100″ with options for 2, 6 or 32 simultaneous touches. Designed to work with Mac OS X 10.6.X and 10.7.X, the MotionCOMMAND (Mac OS X) line brings large-format multi-touch capabilities to Apple's desktop operating system.
"Apple has made great strides in offering advanced touch technologies to the portable devices market through its iOS," said Victor Wong, CEO, Music Computing, "They have made a pledge to do the same for their desktop operating systems. We are happy to be able to provide products that can take advantage of these capabilities and bring them to the Mac community."
Complete information about the new line of MotionCOMMAND (Mac OS X) and (Windows) touchscreens can be found at: http://www.musiccomputing.com/motioncommand-mac-os-x .
In addition to these innovative touchscreen products, other cutting-edge products include: all-in-one keyboard production stations – the most powerful available, but priced at keyboard workstation prices; and laptop keyboard production station docks – the first product of its kind commercially available – mainly designed for Apple's MacBook(R) Pro series laptops, but able to work with virtually any laptop, including most 13-inch to 17-inch models.