Music Computing announces ControlTOUCH integrated MIDI keyboard controller
MuseWire NEWS: AUSTIN, Texas — Music Computing introduces ControlTOUCH, "your laptop's new best friend." The world keep changing and that's no different for music production and performance, says the company. Traditional instruments are giving way to computer-based alternatives and the key is to bridge the two worlds without stifling creativity or getting lost in the technology.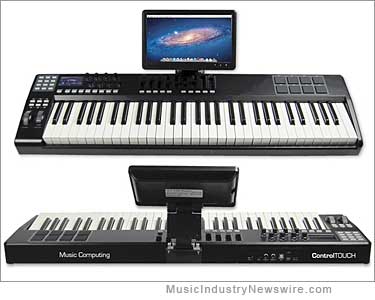 "The ControlTOUCH was designed to allow the user to focus on a musical instrument instead of a laptop," said Victor Wong, CEO, Music Computing, "This is something I strongly believe is important to the creative process."
ControlTOUCH keyboard controllers are designed for the modern day musician who requires traditional keyboard controller features along with a video display and touch screen controls. ControlTOUCH allows you to concentrate on your music creation or performance and less on the technology behind them. ControlTOUCH instantly transforms your laptop or desktop into a full-blown keyboard production station.
ControlTOUCH 61: The 61-key version provides the following controls and features: 8 velocity sensitive trigger pads, 2X Assignable Pedal Interfaces, 8X Assignable Faders (61-key only), Pitch Bend Wheel and Modulation wheel, 6 Buttons for MTC, Master Volume Fader (61-key only), 8 double Function button with shift, providing 15 functions like (PROGRAM, CHANNEL, CURVE, OCTAVE, TRANSPOSE, BANK M, BANK L, DUAL, SPLIT, MUTE, AFTER TOUCH, CONTROL ASSIGN, etc), 10X numeric pad with +/- buttons, Built-in Memory, which can store/load 6 groups of user's parameters, MIDI/OUT, and MIDI/IN. Also available in 25-key portable model.
The ControlTOUCH comes complete with the 10-inch touchscreen and is only $599 for the 25-key version and $699 for the 61-key version. www.musiccomputing.com/controllers .