Music as Comfort Food
A lot of people listen to current hits and familiar oldies. They stream them, play them, download them, hear them in clubs, and sometimes even buy them. They embrace them to such a degree that any unique music is virtually excluded from their lives.
True, new artists and new songs are played, but the music itself is rarely any different from what has already been proven popular. The "flavor of the month" is very often vanilla with a couple of unusual toppings. In fact, there are highly paid consultants, managers, producers, songwriters, mixers and mastering engineers who are valued precisely because they can shape "new" songs and "new" artists so that the sound is reminiscent of everything else being performed in that genre.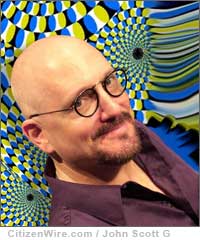 It's a case of neo-nostalgia on a large scale. Music-as-comfort-food, if you will.
Followers of popular music often avoid other styles or genres. Go up to someone who knows the words to the latest hits and see if they are aware of the music of Cole Porter, Irving Berlin, Miles Davis, Arvo Part, Frank Zappa, Patsy Cline, Brian Eno, or Terry Riley. They can sing along as the latest teen sensation lip-synchs through a highly choreographed "appearance," but they haven't a clue about real composers and real musicians making real sounds.
Same As It Ever Was
Just what are the sounds that are loved by the crowd? Mass-market music, that's what. Music that is churned out as if on an assembly line, robotically bolted and welded together for maximum efficiency, meticulously inspected, auto-tuned to death, and decked out with miles of bright shiny chrome.
In other words, non-essential music. Tunes that take little or no thought. Melodies that never challenge the ear. Songs that slice into the listener like a hot scalpel through a slab of butter. Gone are the days when you could be caught off-guard by strange and exotic songs in a commercial context. Instead, anything unusual is incorporated into an already-familiar style. Most depressingly, you are presented with songs that do all the work for you, with sing-song lyrics and nauseatingly repetitious riffs. Short Attention Span Music. ADHD ditties.
Why? That is something I have asked myself over and over during the past few years, often rolling my eyes and sadly shaking my head when encountering unimportant artists performing forgettable tunes. And then suddenly, an answer presented itself in the most unexpected of places.
Boob Tube Solution
I was channel surfing on TV and encountered a rerun of an episode of the Chuck Lorre and Lee Aronsohn sit-com called "Two and a Half Men." In the story, the jingle writer played by Charlie Sheen suddenly becomes a children's music star called Charlie Waffles. In the course of the show, several songs are performed, including "Bye Bye Boobies," "Who Cut the Cheese?", "Grandma May Smell Funny," "Who Barfed in the Fish Bowl?" and the always popular "Potty Time."
The lyrics are warped, snide, cynical and sometimes shocking but they are always very funny. Compounding the humor, the show features a fake TV commercial for a Charlie Waffles album, leading many to hope for more songs in later episodes. (I certainly am looking forward to hearing "Mommy's Little Happy Pill" and "When Mommy and Daddy Wrestle." But I digress.)
The Music Matters
While the words to the Charlie Waffles songs are superb, the music is very much in line with standard children's songs as presented by people like Raffi, Hap Palmer, Greg and Steve, and tons of others. I have trouble considering this to be real music even when real artists are involved. In 1990, a number of terrific performers contributed to an album ("For Our Children") to raise money for the Elizabeth Glaser Pediatric AIDS Foundation, and the results were far better than most children's music.
For example, Bob Dylan contributed a version of "This Old Man" (you know, the one with "knick knack paddy whack"), Little Richard did "Itsy Bitsy Spider," and so on. Yet no matter how great the singer, the music in kid's songs . . . Well, how shall we put this? Oh I know: it sucks.
Wait, let me keep this on a more polite and erudite level. Ready? Here goes: the music on most kids' albums . . . lacks greatness.
On this there can be little argument, so why bring it up? Because it relates to my points at the start of this article. Assuming you remember back that far. And, considering the ADHD aspect of much of today's society, you might not, so let me repeat: a great many people only listen to music that is repetitive, copycat, mundane, and simplistic. The most popular music quite often appeals to the lowest-common-denominator in our culture. And now I think I know why. . .
Because the music our mothers played for us was repetitive, copycat, mundane, and simplistic. The ordinary is deemed extraordinary by those tired adults who are trying to distract us from asking questions or interrupting their attempt to watch television. The banal is beaten into us when we are helpless to resist it.
Captive Audience
As kids, we are often given mediocre music played indifferently by musicians who are just going through the motions in order to get a paycheck. There's no challenge in almost any of those songs. "Boring is beautiful" appears to be the mantra. Hey, I am sorry for my bad thoughts about music for tots, but it sure seems to me that parents pour poison into their kids' ears. Part of the musical madness of mommies and daddies.
Real Music
Does this have to be the case? I don't think so. After my father died in 1998, I came across a box of records from my childhood. Stuck on the labels of many of them were little paste-on stars, showing my favorites. Among them were:
Festival Overture for orchestra in E flat major, Op. 49 by Peter Ilyich Tchaikovsky ("1812 Overture")
On the Beautiful Blue Danube by Johann Strauss Jr.
Overture: William Tell by Gioachino Rossini
Poet and Peasant Overture by Franz von Suppe
There were dozens of others, and not all were classical. Also receiving my sticky-star-of-approval were:
As Time Goes By by Dooley Wilson
G.I. Jive by Louis Jordan
Harbor Lights by Frances Langford with Sam Koki and his Islanders
(If You Can't Sing It) You Have to Swing It by Ella Fitzgerald
Little Brown Jug by Glenn Miller
Sing Sing Sing by Benny Goodman
Does this background make me a better musician? Not at all. In fact, as I freely admit, I am simply an electronic musician, which is not on the same level as my partners, Scott Joss and Doug Colosio, who can walk into a room and immediately start contributing to whatever other musicians are already playing. I, on the other hand, start looking for the best place to put some microphones so we can record everything. That's a valuable contribution, but it ain't the same as being a full-on musician.
By the way, having parents who avoided kid tunes in favor of real music hasn't kept me from appreciating the fun in pop music. I sometimes enjoy Eminem, Norah Jones, Katy Perry, Black Eyed Peas, and so on. Hey, it is possible to get with the beat while overlooking the cheese factor, but having a solid foundation in music also means I can open up my heart and soul to:
44 Duos for Two Violins by Bela Bartok
Delusion of the Fury by Harry Partch
I've Seen it Go Away by Merle Haggard
Mannish Boy by Muddy Waters
My Life in the Bush of Ghosts by David Byrne and Brian Eno
With Symphony Orchestra by Bill Evans Trio
Listen
Being introduced to real music at a young age made me a better listener as an adult. (Thanks, Mom and Dad.) Does everyone raised on kids' music listen to pop pap? Certainly not. Does everyone who listens to pop pap have a background with kids' music? I'm willing to bet they do.

Article is Copr. © 2010 by John Scott G – all commercial and reprint rights reserved. This article originally appeared on CitizenWireCOM before finding its permanent home here on Ga-Ga.com. Cover illustration by Christopher Simmons © 2013 (ChristopherSimmons.com).