Music and Social Networking Get Redefined in New Interactive Music Portal
LOS ANGELES, Calif. — Giving musicians and music lovers more power and flexibility than ever before, BETA Records (www.betarecords.com) has launched a newly expanded site combining search-and-match music selection, virtual commerce, and social interaction. Technology partners took part in a global 2-year effort to transform BETA Records into a music ecosystem to accommodate the way fans like to interact with music and artists.
"BETA Records is taking the ideas, philosophy and functionality of the record labels of yesteryear and adding modern technology," states Chris Honetschlaeger, President. "Now, fans and bands are going to be able to interact in exciting ways, leading to more people sharing and recommending more new music than ever."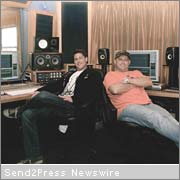 The newly launched site offers quick-and-easy tools for artists and fans to communicate with each other while sharing, buying or selling music, ringtones, and merchandise. "We created a whole new world involving virtual branding, communication, music, and commerce," says Georg van Handel, CEO.
Visitors to the online BETA world will find downloads, streaming, video, email, widgets, ringtone makers, dynamic song pricing, and intuitive search-and-match technology to help find new music.
"Other sites have made music accessible, but it's not about how many 'friends' listen to you because friends don't pay the bills," notes Honetschlaeger. "What we've launched will take a song to 20 different markets, giving 85% of the revenue back to the artists. The more exposure a song has, the more likely it is that someone will buy it." Even fans can earn revenue via recommendations and their own profile's traffic.
The new music and social networking technology is now available in the USA. Next to launch will be England, http://www.betarecords.co.uk; Germany, www.betarecords.de; and Mexico, http://www.betarecords.com.mx, with China coming soon.
About BETA Records
BETA Records is a hybrid community that actively finds, produces, and showcases unsigned artists to the music industry and distributes content to fans via digital channels. BETA offers each artist a dedicated page to utilize the full range of the site's technology.
[tags]BETA Records, music social network, musicians and music lovers, Georg van Handel, Chris Honetschlaeger[/tags]