Muse Research Receptor now Available with KOMPLETE 4 Pre-installed
LOS ANGELES, Calif. — Native Instruments announces the availability of the Receptor "KOMPLETE Inside" edition from Muse Research Inc. The versatile Receptor rack-format plugin host system offers musicians and producers an alternative way of running software instruments and effects without using a standard computer. The KOMPLETE 4 bundle includes 12 acclaimed software instruments and effects which have become a mainstay in all areas of modern music production and performance.
The Receptor "KOMPLETE Inside" Edition comes equipped with acclaimed synthesizers such as ABSYNTH 4, FM8 and PRO-53; authentic keyboard instruments such as AKOUSTIK PIANO, ELEKTRIK PIANO, and B4 II; the industry-standard samplers KONTAKT 2 and BATTERY 3; the unique FFT-based effects VOKATOR and SPEKTRAL DELAY; the extraordinarily powerful sound synthesis studio REAKTOR 5; and the award-winning digital guitar studio GUITAR RIG 2.
The Receptor "KOMPLETE Inside" edition represents an effective discount of more than 30% compared to the individual purchases, and offers a true "plug-and-play" experience due to the software already being pre-installed and authorized on the device.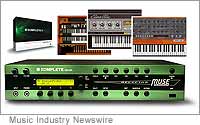 Furthermore, users will also be able to use the KOMPLETE 4 instruments and effects on an additional Windows or Macintosh computer.
The Receptor "KOMPLETE Inside" is available now for a suggested retail price of $2799 from authorized Muse Research dealers. First on the Block Price: $2,899.00 $US direct from MUSE.
The full software line-up is truly remarkable, and includes:
* Absynth 4 : An adventure in sound with multiple synth engines.
* Akoustik Piano : Steinway, Boesendorfer, Bechstein, Steingraber.
* B4II : A masterpiece recreation of the world's favorite organ.
* Battery 3 : The next dimension in drum sampling.
* Elektrik Piano : Four classic EPs: 2 Rhodes, a Wurlitzer and Clav.
* FM8 : Classic FM synthesis with a twist: its easy to program!
* Guitar Rig 2 : Amps, Cabinets, Effects: this has it all.
* Kontakt 2 : Industry-leading powerful and versatile sampling.
* NI-Spektral Delay : Spectacular FFT-based delay effect.
* Pro-53 : Authentic recreation of the classic 80's Synth.
* Reaktor 5 : The ultimate modular sound design studio.
* Vokator : Professional vocoder and vocoding-based synth.
The custom green "KOMPLETE" face plate stands out in a rack, and differentiates it from even the custom silver edition or Turbo model. It's also somewhat complementary to the Absynth colors.
If you were to buy everything separately, you'd pay nearly $7000 for all the bits and pieces. So Receptor plus Komplete purchased separately is a bargain at the combined list price $3798 (Receptor list price $2299, Komplete list price $1499).
More info about the Muse Research Receptor is available at
www.native-instruments.com/receptor.info
More info on KOMPLETE 4 is available at
www.native-instruments.com/komplete.info
---
MuseWire opinion:
Wow — this is likely one of the coolest new items out there for the price, and is the strongest argument yet for a dedicated hardware box to run virtual instruments. It compares favorably with desktop virtual analogs like the Access Virus Ti Desktop on price, but provides way more "whoa" factor for the wealth of sonic options. While it doesn't have all the control surface features of the upcoming Arturia Origin, it's priced considerably less (based on pre-release pricing), and it is very likely compatible with the KORE2 controller (was unable to verify that, but MIDI is MIDI, right?). The fact that all its juicy program goodness is pre-registered (authorized) is more icing on this sound-cake. If you've suffered the NI authorization system (ahem, I still can't get Nostalgia to run on my Core2 Duo workstation, for instance), this is a big plus — making it remarkably plug-and-play for all these cool sound toys. This is definitely a "home run" product! -JJ
[tags]Muse Research Receptor, Muse KOMPLETE Inside Edition, Native Instruments, virtual plugin host system, virtual software instruments, music gear news, new gear wire[/tags]