MPCstuff announces white-out kits to make your Akai MPC into a Casper-friendly beat box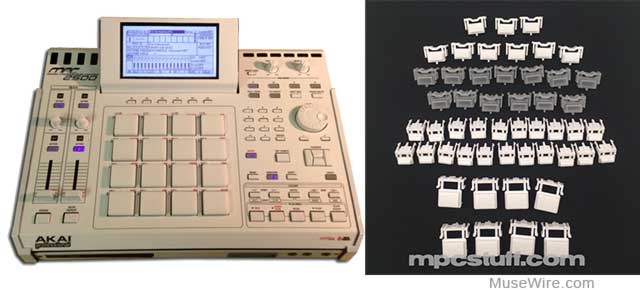 Venerable Akai MPC supply company MPCstuff have announced some new replacement parts for select MPC models to whiten and brighten your drum machine. The "white out" look for music instruments is super popular, and many music instrument companies have often created special editions. The Virus Ti "Polar," the anniversary edition of the Yamaha Motif, special edition Moog Voyager and XL models, etc. Timbaland likes his kit "all white" and artists have even hired Forat Electronics to "white out" all of the keyboards for a Madonna tour a number of years back.
SO, MPCstuff (MPCstuff.com) have announced a set of replacement buttons and switch gear for the Akai MPC 1000, 2000XL, and 2500.
According to the company, "Bright White Button Kits now available! Are you looking to white out your buttons for your Akai MPC? We now have Bright White Button Kits for purchase! We offer these kits for the MPC1000, MPC2500, and MPC2000XL. The kits include all the buttons you need: F1-F6, Play/Record, Medium Size, and Translucent to let the LED's shine through!"
These new items would be paired with white drum pads and other kit to create the full effect (and a full white paint job would be needed for complete effect).
Pricing on the new set of "bright white" switches is currently $49 for the MPC 2500, as an example. More information: http://www.mpcstuff.com/mpc2500-bright-white-replacement-button-set-kit/ .
MPCstuff have also added a Flash-based interactive "Customizer" to help determine what items you'd need to achieve a custom "look," from mild to wild. Sadly, this doesn't include "classic" older MPCs like the 4000. But it does include the following models: MPC1000, MPC2500, MPC2000XL, MPC5000, MPC Studio, and MPC Renaissance.
As the company puts it, "The interactive customizer will provide a visual of what a unit will look like after customizing with our parts. Make your MPC reflect your style with new colored thick pads, wood end caps, colored faceplates, colored knobs, jogs and buttons! We can customize it all!"
View the customizer at: http://www.mpcstuff.com/mpc-customizer/ .
VIDEO teaser (very short):