Moog Unleashes Minimoog Voyager XL – 61 keys, ribbon cable, patch points, real analog!
ASHEVILLE, N.C. (MuseWire) – For those of us wondering when we'd see something new from Moog that wasn't a pedal or a guitar, or yet another backlight color for the Minis ("Select" et al.), it was pretty exciting to learn this week about the first truly "big" Moog since the company relaunched under the late Bob Moog a few years back. While it's not a polyphonic keyboard, as some have hoped (in this economy, an $8,000+ analog is not a big selling proposition), it is bigger, badder, and is more than just cobbling together the existing Voyager with the pre-existing VX CV expanders. It's been "an age" since there has been a new Moog with 61-keys – and for actual lead players this guarantees to bring the Moog "on stage" again, where it's not been seen as much lately.
As described by the company: Designed in celebration of the 40th anniversary of the Minimoog, the Minimoog Voyager XL is a sonic powerhouse that pays homage to important milestones in the Moog synthesizer legacy. It starts with the heart of a Minimoog Model D. Fat oscillators and warm Moog filters give it that unmistakable Moog sound and the rugged construction and intuitive user interface design immediately tells you that you're playing a high-quality musical instrument.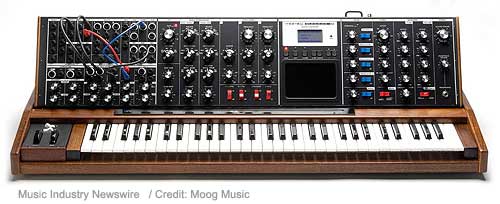 From the current Voyager lineage, the XL inherits a 100% analog signal path with stable oscillators, patch storage, touch surface, pot mapping and extensive MIDI control functionality. To all this, add a ribbon controller and 61 note keyboard and you have a monster analog monosynth built on a 40 year legacy of sonic exploration.
According tor Mike Adams, president of Moog Music, "To celebrate the 40th anniversary of a ground-breaking product like the Minimoog Model D, we knew we had to design something special. The Minimoog Voyager XL draws from the Model D and the entire history of our company to create an outstanding new instrument tailored for production, performance and sound design."
Incorporating virtually all of the sound resources and functions of the original Minimoog Model D and Voyager, The Minimoog Voyager XL features extensive front-panel patchability that harkens back to the original ground-breaking Moog modular synthesizers. A host of features previously found only on massive modular synthesizers combined with state-of-the-art analog technology make it a sound design and control dream machine. Highlights include:
61-Note Velocity Sensitive Keyboard with After-Pressure
Ribbon Controller with Pitch and Gate CV Outputs
Touch Surface Controller with X, Y, A and Gate Outputs
External Audio Input
Effects Loop Insert
2 Active Attenuators
4-Input CV Mixer
Lag Processor
Additional LFO Source with Multiple MIDI-Syncable Waveforms
3 Four-Way Mults
20 Control Voltage Outputs
3 Gate Outputs
10 Control Voltage Inputs
4 Gate Inputs
2 Modulation Busses
Solid Oak Cabinet
Tilting Control Panel.
The Minimoog Voyager XL will begin shipping in the 4th quarter of 2010. More information: http://www.moogmusic.com .
Updated: I inadvertently left off the SRP of $4995. -cs