Moog Music announces limited edition 10th Anniversary Minimoog Voyager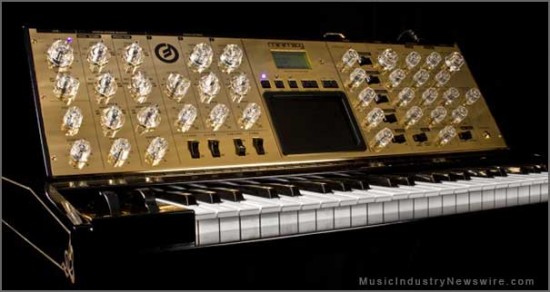 ASHEVILLE, N.C. (MuseWire) – Today, Moog Music officially announced their 10th anniversary special limited edition MOOG VOYAGER. According to the company, Moog created this 24 Karat gold Voyager with the finest materials, as a testament to American craftsmanship. The company is handcrafting 31 of these analog works of art, but only 30 are available for purchase worldwide.
As a thank you to its customers for making the Minimoog Voyager the best selling analog synthesizer of the last decade, Moog has set aside one of these rare and valuable instruments for one very lucky person to win- details for entry to be announced November 16th. As a specific thank you to Voyager owners, Moog will send ALL registered owners a small gift of gratitude for their amazing support.
"We are so thankful to the thousands of Minimoog Voyager customers for making the Minimoog the best selling analog synth of the last decade. Without them, we may not have been able to continue hand building instruments in downtown Asheville, North Carolina," said Mike Adams, CEO Moog Music. "Sending each and every one of them a small gift is a small gesture of our immense gratitude," continued Adams.
MSRP $15,000.
To find out more about the 10th Anniversary Minimoog Voyager please go HERE: http://www.moogmusic.com/news/decade-thank-yous .
VIDEO: