Minnetonka Audio Announces AudioTools(TM) Consult(TM)
Software consulting and development service provides unique automation and integration solutions to industry's most difficult audio workflow issues
MINNETONKA, Minn. — Minnetonka Audio Software announces AudioTools(TM) Consult(TM), a workflow assessment, custom engineering and software development service designed to automate complex audio workflow processes.
Based on more than twenty years of successful audio software application development and contract software engineering services, Minnetonka Audio Software Inc. is defining a new standard for high quality, high productivity audio processing through tools and services based on a structured AudioTools(TM) Work Flow architecture.
Managing audio content efficiently and effectively is difficult and can be expensive. The challenge for audio producers and users, centers on managing digital audio assets through an increasingly complex pipeline of editing, processing, versioning, collaboration, distribution, and archiving.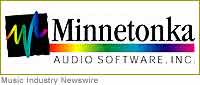 Consult (TM) provides engineers and managers access to the same insights and expertise that defined the AudioTools WorkFlow architecture and the same rich and powerful set of software development skills, development environments, tools and software components that power the industry's most advanced audio software products.
Consult is a user definable service. The industry's leading equipment manufacturers and audio production studios have partnered with Minnetonka Audio Software to develop proprietary retail software packages, design custom software tools for audio work environments, or integrate their favorite 3d party applications. Consult provides assessments and evaluations of existing workflow scenarios using Minnetonka AudioTools Workflow Architecture.
Minnetonka AudioTools(TM) Consult is a powerful and flexible solution for any audio production organization needing more time, better control over audio assets, and the improved bottom line that comes from being more efficient.
About Minnetonka Audio Software:
Minnetonka Audio Software is the world's leading developer of audio encoding and DVD-Audio authoring software. Supported codecs include Dolby(R) Digital, Dolby Pro Logic(TM) II, DTS(TM), and MLP(TM) formats. Minnetonka Audio Software's revolutionary discWelder line of DVD-Audio authoring tools is the standard for authoring in this new high fidelity delivery format. In addition to these software products, Minnetonka Audio Software development engineers have assisted the leading hardware, software and production studios with their custom audio software development needs.
More information is available at http://www.minnetonkaaudio.com.
discWelder, Surcode, AudioTools are trademarks of Minnetonka Audio Software, Inc. All other trademarks are the property of their respective owners.
[tags]Minnetonka Audio Software, AudioTools Consult, audio workflow assessment[/tags]