Minnetonka Audio Announces AudioTools™ Batch Pro™
Minnetonka Audio to demo industry's first fully automated audio processing tool at Game Developers Conference Booth 5601 NH March 7-9 2007
MINNETONKA, Minn. — Minnetonka Audio Software announces AudioTools(TM) Batch Pro(TM), an out-of-the-box software application that will revolutionize the way the audio assets are managed and processed. Part of Minnetonka AudioTools structured workflow; Batch Pro is the industry's first fully automated processing tool for audio assets.
Batch Pro is a flexible, easy to use, and powerful tool for converting, transcoding, encoding, and applying plug-ins to sets of audio files in a batch mode. Users simply specify input files, configure a chain of processors, set parameters for each processor, and run the job. All files are automatically processed and placed in the specified output location. Integrated access to vintage analog processors and external digital processors, Minnetonka Audio's Surcode encoders, and VST plug-ins including stereo and surround is possible.
"We are excited to premier AudioTools Batch Pro at this year's Game Developer Conference," proclaimed Steve Clarke, Director of Marketing, Minnetonka Audio Software. "Batch Pro was designed as the first step in a structured audio workflow, and rigorously beta tested by the industry's best and brightest, in answer to our clients and colleagues who have been frustrated with the cost in time, money and resources associated with traditional file-processing solutions."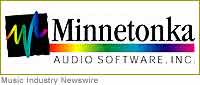 Managing content efficiently and effectively is essential in every media organization. Audio production departments manage large numbers of audio files, requiring different file formats, sample rates, compression formats, and processing requirements – and often by hand with its attendant quality control issues. AudioTools Batch Pro solves these problems perfectly.
About Minnetonka Audio Software:
Minnetonka Audio Software is the world's leading developer of audio encoding and DVD-Audio authoring software. Supported codecs include Dolby(R) Digital, Dolby Pro Logic(TM) II, DTS(TM), and MLP(TM) formats. Minnetonka Audio Software's discWelder line of DVD-Audio authoring tools is the standard in high fidelity delivery format.
Minnetonka has assisted leading hardware and software manufacturers, and production studios with custom audio software development. More information is available at http://www.minnetonkaaudio.com .
[tags]Minnetonka Audio Software, AudioTools Batch Pro, audio encoding software, Game Developers Conference[/tags]