MIHN Records Releases CDs to Rock the Music World While Raising Funds for Charitable Organizations
MEMPHIS, Tenn. — Two new CDs – "Spirit of America" and "She Dances" – have been released by Make it Happen Now (MIHN) Records, a new recording company in Memphis, TN. "Spirit of America" features original songs such as "We are Strong," and "the Pledge," to new versions of classics such as "America the Beautiful." The CD captures the essence of patriotism and American pride. In part, it has been a hit because it speaks to anyone who loves America.
Inspired by the outpouring of human and corporate assistance after the devastation of Hurricane Katrina and a desire to support American troops, "Spirit of America" was created. This patriotic CD is a collection of songs that celebrate bringing people together.
"She Dances" is filled with inspiring, non-denominational songs specifically written to provide hope and strength to people suffering from illness, and their caregivers. Heartfelt titles include: "Never Give Up," "I'll come Running," and "Dancing in the Sunshine."
MIHN Records brings together the talents of several musical veterans to raise money for charitable organizations that focus on people in need.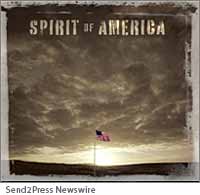 "I founded the company after my father died of cancer," Michelle Crevier, Co-Owner MIHN Records, explained. "As his caregiver, I learned that nobody should suffer adversity alone. It quickly became my desire to create a gift to capture the emotions and memories shared between patients and their caregivers."
The end result of Crevier's desire was MIHN Records, a unique recording and music-production company. MIHN produces music to help charitable organizations, and they also produce music and videos for companies all over the world.
"We work with the finest session players, engineers, songwriters and producers available," Crevier said. "We can offer as much or as little help as a client may need."
Chuck Reynolds, Co-Owner of MIHN Records, has been a drummer since the age of six. He brings a lifetime of professional music success to the company and has worked with well-known artists such as the Dixie Chicks, Def Leppard, Dizzy Gillespie, Will Downing and others.
MIHN Records offers an array of recording packages and creative marketing strategies for artists, corporate clients and charitable organizations.
For more information: www.mihnonline.org or www.mihnrecords.com
[tags]Make it Happen Now Records, new music CDs, patriotic music[/tags]