MASCHINE 2 the next generation unveiled by Native Instruments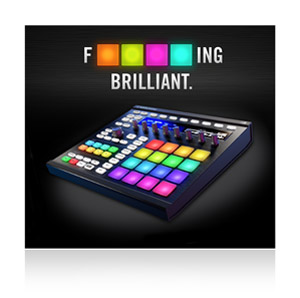 BERLIN, Germany (MuseWire) – As expected, due to the recent major price drop on the original and popular MASCHINE, today Native Instruments has announced the new generation of MASCHINE, its critically acclaimed groove production studio. Coming October 1, 2012, both MASCHINE and MASCHINE MIKRO will receive a major overhaul with new updates to hardware and software, and the addition of the MASCHINE STAND and colored CUSTOM KITS. (While not officially called the MASCHINE 2, we have dubbed it thus.)
The new MASCHINE hardware is now available in a choice of black or white. New backlit multicolored pads provide advanced visual orientation, and the pads have also been updated for increased sensitivity. Re-designed displays provide a wider viewing angle for increased clarity, and the surface layout has been refined with the addition of a master push-encoder and new buttons with a click action.
The forthcoming, free MASCHINE 1.8 software update introduces the new color-coding system. Sounds, groups, patterns and projects can be assigned specific color schemes, which are reflected in the colors of the pads and buttons on the hardware, providing instant visual feedback and improved workflow. Furthermore, the new software also includes offline time stretching and pitch shifting capabilities as well as a range of new effects, including NI's hugely popular dynamic mixing effect TRANSIENT MASTER. Numerous workflow improvements such as Host Transport Control, Browser Sample Preview Mode, Auto-Write Pinning and more plus a number of new hardware shortcuts allow for faster and even more intuitive control of the software via the MASCHINE hardware.
Another major new addition to the 1.8 update is the inclusion of NI's perennial synthesizer MASSIVE – an extremely popular instrument, renowned for its bass and lead sounds. The full version of the synthesizer is included, adding 1,300 additional sounds to the MASCHINE library. Anyone updating to 1.8 update will receive MASSIVE, existing MASCHINE users included. The instrument will be available as a download after software registration.
The more compact MASCHINE MIKRO hardware will also be available in black or white versions, and includes the same increased-sensitivity, multicolored pads and clickable buttons. MASCHINE MIKRO runs on the same software as the larger MASCHINE, so MASCHINE MIKRO owners also get MASSIVE, color-coding, new effects and all workflow improvements.
The new MASCHINE generation introduces optional accessories. Owners of the new flagship MASCHINE can customize their hardware with a choice of CUSTOM KITS– interchangeable faceplates and knobs in five color schemes. Applying the new magnetic faceplate is easy and takes only a few seconds – no additional tools are required. Note that CUSTOM KITS are not compatible with any version of MASCHINE MIKRO.
The second accessory, the MASCHINE STAND, delivers an optimized viewing angle and improved production ergonomics. Designed for both studio and stage use, the stand has a rugged aluminum construction with a black anodized finish. Used on a desktop, the stand provides a secure, non-slip hold thanks to a system of rubber holding pins and rubber feet. Particularly useful on stage, the included Mounting Adapter connects the unit to standard snare drum stands, for neat integration into drum setups. The MASCHINE STAND is compatible with the new black/white MK2 hardware or first generation MASCHINE, but not MASCHINE MIKRO.
A new video with finger-drumming virtuoso Jeremy Ellis filmed at the abandoned former US listening station at Berlin's Teufelsberg showcases the new MASCHINE generation. The video is available at YouTube under:
The new MASCHINE generation, including the accessories, will be available from October 1, 2012. All items can be pre-ordered immediately.
Pricing:
MASCHINE $669/ 599 EUR / 62.800 ¥
MASCHINE MIKRO $399 / 349 EUR / 36.800 ¥
MASCHINE CUSTOM KITS $79 / 69 EUR / 7.800 ¥
MASCHINE STAND $79 / 69 EUR / 7.800 ¥
Additional information on the new MASCHINE generation is available at:
www.native-instruments.com/maschine