Making the Country Music Charts Sing, Sandra Piller Premieres New Video for 'Days Like These'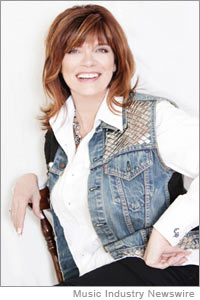 LOS ANGELES, Calif. (MuseWire) – With the title track from her new album, "Days Like These," gathering radio spins, country singer Sandra Piller is happily watching it climb several charts while touching the hearts of listeners at country and Christian country radio. "And now, there's a video that shows many of the wonderful events and emotions that are a part of this magnificent song," Piller states.
Rising on Nashville's Music Row chart and in the Top Ten of both the indie and main country charts at New Music Weekly, "Days Like These" is an ode to life, love, family, friendship, and the contemplative moments of a quiet Sunday morning. Written by Jane Bach and Sean Kristopher, and produced by Bach and "Cowboy" Jack Clement (Roy Orbison, Johnny Cash, Jerry Lee Lewis), the song has been given a cinematic video production.
"The video was shot in high-definition digital and tries to be both far-reaching in scope yet as intimate as the breath of a newborn baby," states Piller. "The video shoot was hard work but lots of fun to make," she adds.
Sandra Piller is honoring the roots of country music while forging her own way with tunes and turns of phrase that have caused some people to say "she's not your father's country singer." Mixing a country soul with an urban sensibility, she moves through her life and her music with unrelenting optimism that is delightfully contagious.
On this album, her third release, Sandra embraces the sounds of country artists from Crystal Gayle, Patsy Kline, and Kenny Rogers to Miranda Lambert, The Judds and Lady Antebellum, but then adds her own touch of style, confidence, and hope. "And we also try to provide several opportunities for some spirited two-stepping!" Piller notes with a smile.
Sandra recently performed selections from the "Days Like These" album at a special showcase performance at The Mint in Los Angeles before a standing-room-only crowd. "It was an enthusiastic audience," Piller says, "with people trying to dance wherever they could find some elbow room."
The album, released by Shady Hill Records, is available on iTunes, Amazon, and all the usual places for physical and digital distribution, with promotion and marketing headed by Harvey Cooper.
More information: www.sandrapiller.com .
VIDEO: