Latin Music Industry Insiders' Report at the California Copyright Conference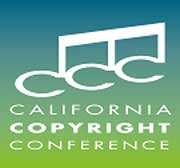 LOS ANGELES, Calif. (MuseWire) – Eric Palmquist, board member of the California Copyright Conference, has released a list of topics to be covered at the CCC presentation, "Music En Espanol," which will take place the evening of February 8 in Sherman Oaks (Los Angeles). Palmquist, who is also a Director at Disney Music Publishing, notes that presenters on the panel will be discussing inside information from labels, lawmakers, managers, marketers, touring companies, retailers and music publishers.
"Instead of a conversation purely held in a vacuum, we plan to have each panelist describe specific areas in which they are now finding success so attendees can walk away with details and a plan of action for their own career," Palmquist notes.
Topics for the dinner/panel event will include:
– Sharing of statistics about the growth of Latin music in the U.S. market;
– Genre explanation and examples;
– Obstacles to digital growth in Latin sector and discussion of possible solutions;
– Analysis of the current state of the Latin music market;
– Business opportunities to be seized now and in the near future.
"Latin music has an incredible reach around the globe and this will be a rare opportunity to learn firsthand about the current state of the market," Palmquist stated. "From recording to touring, from airplay to sales, and from publishing to finances, we are looking forward to a stimulating presentation," Palmquist added.
The panel will be a distinguished group of entertainment industry professionals who are deeply involved in all aspects of the Latin music market both domestic and international.
Speakers set for the evening are:
* Richard Bull – President, The Sixth House;
* Tomas Cookman – CEO, Nacional Records / Cookman International and Founder, Latin Alternative Music Conference;
* Yvonne Drazan – Creative Director, peermusic;
* Nir Seroussi – Vice President, Marketing and A&R Sony, Music Latin;
* Kike Santander – Multi Grammy Award winning Songwriter and Producer, 3x BMI Latin Songwriter of the Year, also Chairman of The Latin Academy of Recording Arts & Sciences (LARAS) Board of Trustees and CEO of Santander Records.
Moderators for the panel:
* Marissa Lopez – Associate Director, Latin Writer/Publisher Relations, BMI;
* Eric Palmquist – Director, Disney Music Publishing.
When and Where:
This special CCC program will take place Tuesday, February 8, 2011 at the Courtyard by Marriott Hotel, 15433 Ventura Blvd., Sherman Oaks, CA 91403 (near Sepulveda & Ventura Blvd., just West of the 405 freeway). The parking entrance is on Orion Avenue and parking is free with validation at the event. Check-in is at 6:15 p.m., cocktails begin at 6:30, dinner at 7:00 with the presentation to follow. Cost is $40 for CCC members and college students with I.D., $50 for non-members.
About the California Copyright Conference:
The California Copyright Conference was established in 1953 for the discussion of copyright-related areas pertaining to music and entertainment. The CCC encourages, fosters and promotes an interest in all materials relating to copyrighting and other protection of intellectual and creative properties.
MCLE credit is available for all CCC programs.
To reserve a seat for the February 8th dinner program, or for more information on The CCC, visit http://www.theccc.org or call 818-379-3312.
Media contact:
John Scott G
jsg@gmanmarketing.com .
Phone: 818-223-8486.