Lake Tahoe Benefit Concert Remembers Angora Fire
SOUTH LAKE TAHOE, Calif. — To commemorate the first annual anniversary of the Angora Fire, Think Tank Promotions, in association with Net TV Broadcasting, present "The Angora Benefit Concert." Gates open at noon at the Horizon Casino Outdoor Concert Center, 50 Highway 50, Lake Tahoe, Nevada, June 24, 2008. This all-day benefit concert will showcase national and local entertainment and is designed to create awareness and monetary support. Proceeds from ticket sales will be given to the "Locals for Locals" fund.
"Last year, we all witnessed what is possible when a community pulls together all of its resources to provide for the needs of our citizens," Brian Gogue, president of Think Tank Promotions, says. "One year later, our community still needs support as it rebuilds."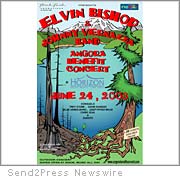 On June 24, 2007, the South Lake Tahoe community was devastated by one of the most significant disasters, to date. It received global media attention as 3,500 residents were displaced and 3,100 acres of forest burned. Support was provided at the community and national levels. People opened up their homes and businesses offered support. The long-term effects are immeasurable and the repercussions of this tragedy are still being felt by victims, families and friends.
Gogue is also one of the neighbors who lost his home last year in the fire. He and his three children survived the blaze, but lost everything they had."We were lucky to have a great insurance policy," Gogue said. "Not everyone was so fortunate, and I feel that I can use the influence of Think Tank Promotions to help the community."
This benefit concert is designed to bring the community together to reflect on the tragedy, to celebrate immediate success, and to provide support to the families who are still trying to pick up the pieces of their lives.
People interested in the local music scene are excited about the headliners — the Johnny Vernazza Band followed by Elvin Bishop – because Elvin and Johnny V. have not played together or shared the same bill for over a decade.
Overall, the concert will highlight eight bands with special guest appearances.
Attendance is estimated at 6,000-8,000 visitors, not including vendors/ exhibitors. Sponsor and vendor packets are available. Sponsorship packages range from $250 to $1,000; vendor booths are $500 for 10 hours.
"Our sponsors and vendors are an integral part of supporting the financial obligations of an event this size," Gogue explains.
Benefits of sponsorship include: community appreciation and recognition of philanthropic behavior; association with legendary musicians; a business web site link on angorabenefitconcert.com which will be up and running for one year with video and picture updates; and finally, major brand recognition.
Think Tank Promotions creates opportunities for community growth through benefit concerts and fundraisers. It is their mission to provide quality events that foster a strong sense of community through arts and entertainment.
Admission to the event is $20.00 and tickets can be found on line at: http://www.angorabenefitconcert.com. Families affected by the fire and local emergency crews will be provided free admission.
For more information contact:
Brian Gogue, of Think Tank Promotions, 530-541-1905.
[tags]anniversary of the Angora Fire, Think Tank Promotions, Net TV Broadcasting, The Angora Benefit Concert, Lake Tahoe events[/tags]