Lab X Launches Xavity – Multi-platform Audio and Video AVB Connectivity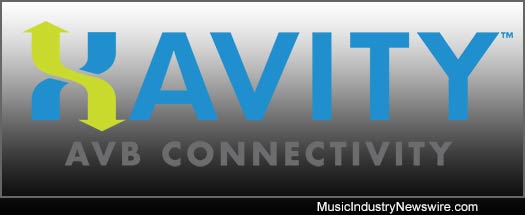 ROCHESTER, N.Y. (MuseWire) – Leading Audio Video Bridging platform provider Lab X Technologies announces the launch of Xavity™ AVB connectivity. Xavity (pronounced "zav-i-tee") provides turnkey AVB platforms for an expanding list of silicon devices for use in AVB-enabled audio, video, and switching products.
Xavity enabled platforms currently include Xilinx FPGAs, Analog Devices' Blackfin, and Marvell SoCs. Xavity is at the heart of all high channel, high performance AVB endpoint products shipping today including influential manufacturer licensees Avid Technology, Inc , Biamp Systems, HARMAN, Meyer Sound, plus a number of soon to be announced Xavity licensees. Lab X's own Titanium 411 ruggedized AVB bridge, which has been shipping more than a year, is powered by Xavity.
"As culmination of dozens of man-years of cutting edge development, extensive testing, and field hardened early deployments, Xavity is our brand name for our multiple audio and video AVB solutions," states Lee Minich, president of Lab X Technologies. "Xavity is proof-positive of Lab X's AVB technology leadership, and our path to AVnu certified interoperable, royalty free, standards-based AV networking."
Xavity ensures open AVB standards on multiple turnkey platforms for equipment manufacturers of audio and video media network-enabled devices. Xavity also includes must-have features such as glitch-free stream redundancy, cross platform standardized APIs, and a single network connection for guaranteed AV media as well as legacy network control / data.
Minich underscores, "With the launch of Xavity, we announce to our licensees and the AV networking ecosystem that Xavity bridge and professional audio endpoint reference designs are first in line for the opening AVnu Alliance certification programs."
Xavity will be demonstrated on the AVnu Alliance Pavilion (#7K190) at Integrated Systems Europe (ISE 2013) January 29th – 31st at the RAI convention center in Amsterdam, NL. Lab X Technologies continues its strong support of the AVnu Alliance through education presentations about AVB and importance of AVnu certified interoperability throughout the show.
For more information, please visit http://www.labxtechnologies.com
About Lab X Technologies:
Founded in 1996, Lab X Technologies, LLC is a Rochester, New York-based engineering design firm recognized as a global leader in digital AV media transport and network connectivity, with extensive experience in applying IEEE 802.1 Audio Video Bridging (AVB) and other audio networking standards. Lab X is an influential participant in the AVB community, an extremely active member of AVnu Alliance (www.avnu.org) and fully committed to AVnu certified interoperability.
Lab X partners with leading AV manufacturers to accelerate product development cycles, enable digital network interoperability by licensing Xavity AVB connectivity platforms, augmenting internal design teams, providing pre-engineered connectivity modules, developing innovative product concepts, and producing complete turnkey custom solutions.
Xavity, the Xavity logo, and stylized Xavity X are trademarks of Lab X Technologies, LLC. All other trademarks are the property of their respective owners.