KV331 Audio updates SynthMaster Virtual Instrument to v2.5.4.152, plus new sound bank from Nori Ubukata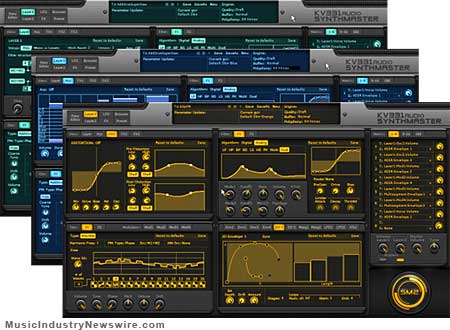 MuseWire NEWS: The folks at KV331 have recently announced their latest update to SynthMaster 2.5. As the virtual instrument continues to evolve, KV331 has done a remarkable job of quashing bugs while at the same time adding and enhancing features such as stereo panning for stereo SFZ oscillators, and multiple user preset folders. As per usual the major update is free of charge to registered owners.
The fixes in this v2.5.4.152 update are:
– Arpeggiator now skips MIDI note on messages for notes that are already in the arpeggiator's playing notes list
– When a note on message is received for a note that is already in note on state, note off message should be sent to that note first
– Save/SaveAs buttons dont show up save file dialog for SynthMaster RTAS.
– Arpeggiator doesnt import MIDI files correctly when they contains triplet notes.
– Constant modulation source doesnt work.
– Pitch bend doesnt work correctly for comb filters.
– SynthMaster crashes when VST host changes buffer size.
– SynthMaster doesnt accept arbitrary buffer sizes from VST host.
– Saving preset settings might cause SynthMaster RTAS to crash.
– MIDI Node number of each SynthMaster RTAS instance is not unique.
– Preset browser bank filter missing in Synthmaster RTAS.
– For VST hosts that use variable buffer size (such as Orion), SynthMaster doesnt work correctly.
– When engine quality is greater than draft, MIDI CC filter lag time is incorrect.
– When engine quality is greater than draft, non-voice MIDI messages are not processed correctly.
– When voice stealing, notes that are held should not be stolen.
– Deleting keyscaler points with right mouse button doesnt work.
– For multiline textboxes (preset description), the last line is not displayed.
– SynthMaster AU 64bits might crash if there are certain plugins in the session.
– Step LFO doesnt start at correct step index.
– SynthMaster should warn user if temporary files can not be written (under Program Files or Library).
– After saving a preset its name is displayed twice on the preset browser.
– For SFZ oscillators, phase (sample start index) parameter can not be modulated.
This update also brings the following new features:
– SynthMaster now supports multiple user preset folders.
– SynthMaster now adds default preset extension smpr while saving presets.
– SynthMaster now remembers user's last folder selection for imported samples.
– SynthMaster now supports global A4 tune through configuration file.
– Added tripled/dotted timing for arpeggiator steps.
– Added stereo panning for stereo SFZ oscillators.
Additionally a new sound bank, from Nori Ubukata, continues his masterpiece with his latest preset expansion bank: 'Art Rock Basics'
The new bank, which is suitable mostly for progressive/psychedelic rock genres, consists of 53 presets. It has the following multi-sampled content (160 MB) in SFZ format:
– Chapman Stick – Bass.
– Chapman Stick – Melody.
– Mellotron Violin Trio.
– Mellotron Cello.
– Mellotron Flute.
– Mellotron Choir.
– Mellotron Brass.
The bank costs $15, and can be purchased and downloaded from our online store.