Kurzweil Music releases OS2.10 for PC3/PC3K Keyboards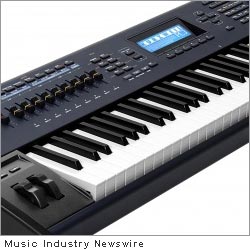 WOODLAND HILLS, Calif. (MuseWire) – Kurzweil Music and American Music and Sound today announced version 2.10 of the operating system (OS) for the PC3 and PC3K line of music keyboards. The upgrade is free to all PC3/K owners through the Kurzweil website.
Kurzweil PC3K/PC3 2.10 Feature Highlights for March 2012:
ENHANCED LIVE PERFORMANCE TOOLS
Display: Large
For live situations under low light or for floor demos, Master Mode new display mode "Large" shows the currently selected program or setup using a large size font.
Safe Mode: On
For live, especially theatrical, or very critical situations where any involuntary soft button press (mainly transposition) could cause the player a problem, safe mode disables the soft buttons functionality from program or setup select modes.
QACategory: Favorite / MIDIState
In QA Mode, the 16 instrument Category buttons now offer two new modes of functionality:
QACategory: Favorite – Using the press/hold paradigm (like a car radio), each category
button can store/recall a quick access bank itself. In addition to the existing bank navigation methods, this new option offers fast, one-button access to 16 of your most favorite quick access banks.
QACategory: MIDIState – For third party template based VA libraries like "Let's VA" or
"Moose Attack", QA mode now allows the user to take a 'snapshot' of the entire MIDI state of the PC3 at a particular moment and save it to a category button as a recallable preset. These presets can be exported and loaded back using Storage mode.
UPGRADED PORTAMENTO
Portamento: On
Monophonic programs with portamento – notes now keep gliding when sustained by the sustain pedal.
IMPROVED ALERT MESSAGING
ControlSetup
To help avoid unintentional programming accidents that can potentially affect the global
operation of the PC3, a new warning message is now displayed whenever attempting to change or edit the Control Setup (considered a more advanced application).
Storage
An error message is now displayed when attempting to store data onto a device that is out of space.
MISCELLANEOUS ENHANCEMENTS
Song Mode:
– Tracks now respect destinations (MidiDst) for play/record as well as MIDI Xmit Destination.
– Changing from Song to Program Mode (w/ FX Mode: Performance) now loads the correct effects.
– Program changes sent by a Song now respect the MIDI CHANLS PrgLock.
Improved K2-series program conversion
PC3K Series:
Improved speed in loading non-contiguous samples from a USB device.
For complete revision details, please see the 'Release Notes' contained within the update package.
Note: the above updates are not for the PC3LE. There is no update for the PC3LE at this time (coming soon).
More information: http://kurzweil.com/products/pro_keyboards/ .