Korg USA Launches ProSessions Instructional Videos
NEW YORK, N.Y. — John Petrucci premieres the first entry of Korg ProSessions, a series of videos with practice and warm up tips demonstrated by the artists themselves. A member of Dream Theater, John Petrucci is renowned for his serious guitar chops and distinctive style.
Korg ProSessions is a monthly series of metronome-based instructional videos featuring world renowned artists like Joe Satriani, John Scofield, Jordan Rudess, Jake Cinninger and many more.
Each ProSession features metronome practice tips for all levels of playing including beginner, intermediate and advanced exercises demonstrated by the artists themselves.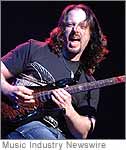 The first program, with John Petrucci, guitarist with Dream Theater, can be viewed as streaming video, here: www.korg.com/sbytes/article.asp?ArtistID=305
The run times on the video for each lesson level:
Beginner: 0:00; Intermediate: 3:37; Advanced: 5:04.
A PDF of the tablature and notation for John's practice patterns can be found here: www.korg.com/e-blast/John_Petrucci.pdf
We had some loading problems with IE7 on WinXP, likely due to the streaming server being overloaded. Firefox allowed us to see an optional "listen to it" link if the Korg streaming server was overloaded. Be sure to run the "click here to setup your system" link first to make sure your media players are up to date for the video stream.
Additional ProSessions coming soon:
Jake Cinninger of Umphrey's McGee
Joe Satriani
John Scofield
Jesse Murphy of Brazilian Girls
Jordan Rudess of Dream Theater
Aaron Johnston of Brazilian Girls
And more!
(Photo of John Petrucci by and © Erik Neldner.)
[tags]Korg ProSessions, guitar instruction videos, Dream Theater John Petrucci[/tags]